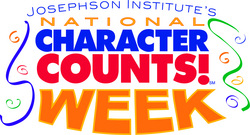 lay out clear and high expectations for student behavior and shared values
Los Angeles, CA (PRWEB) October 16, 2009
Helping to answer the Obama Administration's nationwide call for renewed service and education reform, more than 5 million youth, parents, teachers, and volunteers will gather in thousands of schools across the country and around the world to spruce up schools, reclaim neighborhoods, and celebrate good character during the 16th annual National CHARACTER COUNTS! Week on October 18-24.
"Teaching youngsters about the importance and nature of character is the antidote to the disease of cynicism spurred by a continual parade of national misconduct in our society," said Michael Josephson, founder of the CHARACTER COUNTS! Coalition, a partnership of more than 900 educational and youth-serving organizations committed to improving the ethical quality of America's young people. "It's rather extraordinary in this day and age to mobilize thousands of schools and millions of kids to proclaim to the world that character counts."
From a "Walk Against Drugs" in Texas to an education jamboree in California to a Six Pillars of Character day in Iowa, hundreds of communities will be doing just that during CC! Week, which has become a model for municipalities in how to turn around underperforming schools and change school culture through innovation and community resources.
Some of the ways communities will celebrate CC! Week are:

Community-service days
Neighborhood parades
Citizenship fairs
Essay contests
Character assemblies
Sportsmanship awards
Business-sponsored events
Red Ribbon Week tie-ins
Every year since the inception of CC! Week, the President, the U.S. Senate, and governors and mayors have supported the largest annual observance of good character in the nation.
Last year's bipartisan Senate resolution was announced by Chris Dodd (D-Conn.) and Pete Domenici (R-NM). "Character-education programs work," Senator Dodd declared. "Schools across the country that have adopted strong character education programs report better student performance, fewer discipline problems, and increased student involvement within the community. Senator Domenici and I hope that by designating it we may highlight the importance of character-building activities in schools not only this week but all year long."
Complementing the Administration's plan to budget an additional $111 million for the Safe and Drug-Free Schools and Communities National Programs, CC! Week will help meet the President's challenge for schools to "lay out clear and high expectations for student behavior and shared values" and for parents to "take a greater stake in their child's education both in and outside of school."
As President Barack Obama said in a speech this summer, "We stand at a unique moment in the history of our nation. We can rebuild our schools, but we need people to be mentors and tutors in those schools. America's new foundation will be built one community at a time - and it starts with you."
For information on how you can get involved in CHARACTER COUNTS! Week 2009, call 800-711-2670 or go to http://www.CharacterCounts.org.
The nonprofit Josephson Institute of Ethics, a nonpartisan, nonsectarian organization based in Los Angeles, created and administers CHARACTER COUNTS!, the nation's most widely implemented character development framework. Committed to improving the ethical quality of America's young people, it is supported by a coalition of over 900 national and local organizations including the PTA, YMCA, Boys and Girls Clubs, Big Brothers Big Sisters, AYSO, Little League Baseball, American Federation of Teachers, National Association of Elementary School Principals, National Association of Secondary School Principals, and the American Association of School Administrators.
# # #