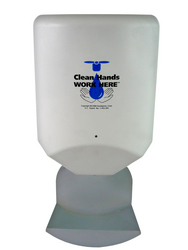 An easy to use, non-invasive system that encourages personnel to comply with Federal and State regulations and a Facility's protocols regarding Hand Hygiene can and will greatly reduce the incidents of Hospital Acquired Infections (HAIs) and Foodborne Illness across the US and the world. This is why we created the patented HandGiene System
Jersey City, NJ (PRWEB) October 15, 2009
The HandGiene Hand Wash Monitoring and Accountability System uses Patented, Proprietary RFID-enabled Cleanser Dispensers and Proprietary miniaturized, Patent-Pending RFID readers to actively and non-invasively assure compliance by all covered personnel and visitors with a facility's hand wash protocols. The HandGiene System works with equal, unparalleled efficiency in Hospitals and Healthcare facilities and also, Restaurants and Food Preparation Facilities alike. The HandGiene System diligently and unbiasedly monitors all enrolled personnel, finally giving Infection Control Administrators, the CDC and other governmental agencies, including the Joint Commission, the tool they have been looking for to reach their collective goal of a 90% Hand Hygiene compliance rate.
The HandGiene System works with both Antimicrobial Soaps and Hand Sanitizers with or without alcohol. When installed in a hospital or restaurant, the HandGiene System assures increased accountability and compliance with a participating facility's established hand wash protocols. The HandGiene System monitors all hand wash opportunities and reports, in real time, the success or failure of employees' compliance with hand wash protocols. The HandGiene System requires no extra effort or steps to complete and record a successful hand wash. The HandGiene System is... As Simple As Washing Your Hands™.
"An easy to use, non-invasive system that encourages personnel to comply with Federal and State regulations and a Facility's protocols regarding Hand Hygiene can and will greatly reduce the incidents of Hospital Acquired Infections (HAIs) and Foodborne Illness across the US and the world. This is why we created the patented HandGiene System", commented HandGiene founder and inventor, Vincent Verdiramo. "We differ from other companies that attempt to offer a Hand Hygiene Compliance Monitoring Solution in that the HandGiene System works in all areas of a facility and our HandGiene Hand Cleanser Dispensers can dispense a variety of our proprietary soap and waterless hand sanitizers. Our backend systems are designed to integrate with existing legacy systems to facilitate rapid deployment in specific areas or throughout a facility. Our web-based software allows for administrators to look at specific employees, crews, stations, departments, shifts or an entire facility or in the case of larger concerns, an entire system of facilities or locations. Preliminary feedback has been favorable and interest is growing rapidly. We look forward to kicking-off our marketing campaign with ads in the November issues of Infection Control Today and Executive Healthcare Management and the launch of our redesigned website, http://www.HandGieneCorp.com ."
HAIs are extremely detrimental and costly to the US population and economy. The US Department of Labor has identified nearly 6 million licensed health care workers and support staff with each one representing a potential source of HAIs to the nearly 36 million people in the United States that were admitted to a hospital last year. The CDC reports that in 2007, there were nearly 1.25 million incidents of HAIs that resulted in more than 120,000 deaths or approximately one death every 4 ½ minutes. Foodborne illnesses present another significant health issue. According the US Department of Labor there are approximately 980,000 restaurants in the United States and over 8 million people who work in them. Health experts estimate that the yearly cost of all foodborne illness in the US is $ 5 to 6 billion in direct medical expenses and lost productivity. An example of this cost is an infection caused by exposure to the bacteria Salmonella. It alone accounts for $1 billion yearly in direct and indirect medical costs according to the CDC. To the extent that lack of hand wash protocol compliance impacts these statistics, the HandGiene System helps to address this source of contamination and the transmission of targeted pathogens in these diverse environments.
Information on the HandGiene System can be found at http://www.HandGieneCorp.com or by calling (800) 948-7304.
###