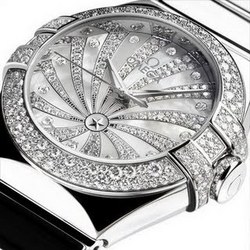 Los Angeles, CA (PRWEB) October 16, 2009
Boasting of its stunning luxury timepieces such as Patek Philippe, Panerai, and Bvlgari, Chong Hing Jewelers now proudly carries Omega's 2009 "New Constellation" Collection. Patek Philippe and other fine watch collectors will be pleased to know that Chong Hing Jewelers has become the exclusive dealer of the Constellation 09 watches, a collection of Omega's redesign of the Constellation line.
Revolutionizing the world of horology since 1982, the Constellation line is known for its radical and enduring design concept. Despite being a redesign of its predecessors, the 2009 Collection still carries the Constellation star which sets the timepiece apart from its peers. The sporty but elegant line stands out above the rest because of the supernova pattern emerging from the Constellation star. Additionally, all new timepieces are water resistant up to a depth of 100 meters.
Because Chong Hing Jewelers knows that collectors and wristwatch lovers only want the best when it comes to luxury timepieces, the online distributor of luxury timepieces and fine jewelry also carries well-known brands such as Patek Philippe, Breguet, Mont Blanc, and Mikimoto. Patek Philippe and other luxury timepiece lovers can trust Chong Hing Jewelers to bring only the best and most trusted brands when it comes to wristwatches. The authorized distributor of Patek Philippe also offers a vast selection of gift choices such as cuff links, crystalware and charms.
About Chong Hing Jewelers
Chong Hing Jewelers, a purveyor of high-end watches and jewelry, has built a reputation for incomparable service and value. Chong Hing Jewelers is proud to be an Authorized Dealer for esteemed brands of exclusive Swiss watches, rings, necklaces, bracelets, earrings and other Gifts & Accessories. Chong Hing Jewelers' collection of loose diamonds, engagement rings, 18k yellow gold, white gold, rose gold and platinum jewelry is sure to fit every personality, attitude and lifestyle for even the most discerning customer. Press release produced by Cybertegic.com - an Internet marketing services agency that specializes in search engine optimized press release marketing (SEO marketing).
###