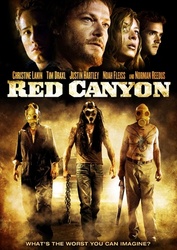 Los Angeles, California (PRWEB) October 19, 2009
Hollywood Video and Movie Gallery will release "Red Canyon," a horror movie and psychological thriller, on October 20. The new movie, by debut director, Giovanni Rodriguez, stars Norman Reedus, "Boondock Saints" and Noah Fleiss, the Indie anti-hero of "Brick."
Other members of the cast include: Christine Lakin, "Super Capers" and the "Hottie and the Nottie;" Tim Draxl, "Swimming Upstream;" Ankur Bhatt; Katie Maguire; Walter Rodriguez and Richard Pratt.
Years after a brutal attack, Devon and his sister, Regina, return to the small town of Caineville to sell their mother's property and get on with their lives. Regina agrees to return to the place where it happened because part of her wants to remember what happened that day - what they did to her in the cave - maybe if she can remember, then she can forget.
Soon the line between the past and present blurs and it isn't long before Regina wonders if someone has been waiting for her and Devon to come home.
Regina returns to the cave to put the past behind her once and for all. But returning to the scene of the attack awakens a killing rage in a town where everyone has ties that bind.
As they are hunted through the desert Regina realizes that no one and nothing can be trusted - not even her own memories. The challenge wasn't returning to Caineville. The challenge is getting out alive.
After working on film crews for many years, co-writers Giovanni Rodriguez and Laura Pratt created their savagely fun and disturbing screenplay. The strong writing and edgy nature of "Red Canyon" lured veteran New York and Hollywood actors to the badlands of Southern Utah for filming.
In the badlands of America methamphetamine use, violence, rape, insanity, and poverty co-exist with the most incredible natural landscapes on earth. "Red Canyon" explores many of dark things that still happen in the still lawless corners of the west.
The new movie was so controversial it was turned down for the film rebates and incentives package the state of Utah gives productions that shoot in the state.
The director honed his skills as a commercial director and production designer in Puerto Rico. Four years ago he moved to New York and worked as a scenic on films such as "Shutter Island." "Red Canyon" used his training in design to create a remarkable feel that few first time directors can emulate.
The end result is that "Red Canyon" has an amazing look rarely seen in Indie features.
For more information about the new movie "Red Canyon," or to learn more about this horror movie/ psychological thriller, visit: http://www.imdb.com/title/tt1064801/ or http://www.redcanyonthemovie.com or call 888.583.5660.
# # #