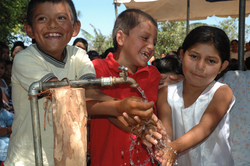 Denver, CO (Vocus) October 15, 2009
Denver-Colo (Vocus) October 14, 2009 -- There's nothing better than a two-for-one special, especially when it means doubling the impact of generous donations. New Orleans philanthropists Stephen and Sandy Rosenthal are donating $500,000 for the second time to Water For People, a nonprofit international development organization, and the goal is for donors to match that amount by November 15, raising a total of $1 million to support safe drinking water and sanitation projects in 10 developing countries.
In Fall 2008, the Rosenthal Million Dollar Challenge surpassed the $1 million goal thanks to the support of additional donors. The money was used to support Water For People expanding its reach into four additional countries: Rwanda, Uganda, Peru, and the Dominican Republic.
"Last fall, together we raised more than $1 million during the first Rosenthal Million Dollar Challenge to support Water For People's life-changing work. We were amazed by the response. In March, I had the pleasure of visiting Water For People programs in Malawi and Rwanda and saw firsthand the impact that our collective support has made for thousands of people who now have sustainable access to safe drinking water and improved sanitation. It's powerful stuff and proves that together we can transform lives. Sandy and I want to keep the momentum alive and invite others to join us in raising another million dollars for Water For People today," said Stephen Rosenthal.
The Rosenthals recently renewed their $500,000 Rosenthal Million Dollar Challenge. Doubling the value on donations to Water For People means doubling the impact of each dollar. Water For People helps people improve their quality of life by supporting the development of locally sustainable drinking water resources, sanitation facilities, and hygiene education programs.
For example, in West Bengal, India, Water For People is working hard to transform the experience of girls to keep them attending school beyond puberty. One initiative created the opportunity for girls to design their own bathrooms at school, including choosing the location and the items to incorporate in the bathroom. The process of designing and then seeing their design come to fruition not only led to better facilities and hygiene, but to a greater sense of pride and accomplishment for the girls themselves.
Also, in Malawi and Bolivia, Water For People supports local entrepreneurs in building businesses that create and support more latrines. These businesses focus not only on building latrines, but also on designing systems to empty them, using the compost to improve regional agriculture, and creating a locally robust economy centered on services for latrines. This equates to a transformation in the number of toilets as well as transformation of local economies and jobs.
For more information on how you can participate in the Water For People Rosenthal Million Dollar Challenge, contact Wende Valentine, Assistant Director of Major Gifts, at 720.488.4591 or visit http://www.waterforpeople.org/milliondollarchallenge.
About Water For People
Founded in 1991, Water For People is a Denver-based private, nonprofit international humanitarian organization that supports the development of sustainable safe drinking water resources and improved sanitation facilities in developing countries. The nongovernmental organization is distinguished by its focus on local private sector development, interorganization collaboration, social entrepreneurship, and the engagement of stakeholders, which combine together to achieve sustainability. The organization has active water, sanitation, and hygiene education programs in 10 countries in Africa, Asia, and Central and South America. Water For People is a charity of choice of the North North American water and wastewater community. For more information, visit http://www.waterforpeople.org.
###