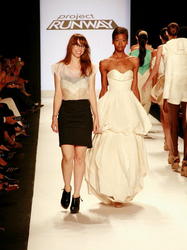 Students would be surprised at the amount of scholarships offered by outside sources
Los Angeles, CA (PRWEB) October 16, 2009
During difficult economic times, FIDM/Fashion Institute of Design & Merchandising works diligently to make its world-class curriculum available to all qualified students through its industry-renowned FIDM Scholarship Foundation.
The FIDM Scholarship Foundation is a non-profit organization that provides scholarship counseling to students, assisting them in finding and applying to the myriad of scholarships available to college students from both private and public sources. With recent Foundation estimates totaling the scholarship pool in the millions of dollars, many scholarships are waiting to be claimed.
For students at FIDM's fashion school, the experience of visiting the Foundation for the first time is a revealing one. Personalized scholarship plans begin with a one-on-one dialogue with a scholarship staff member to determine the student's interests and goals. As the plan is narrowed into a decisive course of action, the staff member creates a user-friendly directory of expertly culled, up-to-date scholarship information. The staff member then provides updates, reminders, and advice throughout the application process.
Accessibility to scholarship information is a major priority for the Foundation, and five full-time staff as well as student interns work diligently on publicizing scholarship opportunities. "Students would be surprised at the amount of scholarships offered by outside sources," says Nicki Anderson, who works for the FIDM Scholarship Foundation. Ensuring that each member of FIDM's fashion college is equipped with the same opportunities, Foundation postings can be seen on FIDM's Student Portal, the FIDM Newsletter, in the financial services and scholarship offices, and throughout the college.
With four dynamic California campuses, FIDM/Fashion Institute of Design & Merchandising is the premier west coast fashion design college, educating for careers in fashion design, graphic design, interior design, and entertainment. FIDM's graduates include renowned fashion designers like Monique Lhuillier and Project Runway winner Leanne Marshall, Emmy® and Academy Award® award-winning costume designers, top fashion industry executives, and entrepreneurs.
# # #