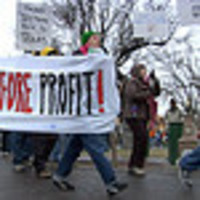 We are fighting for our lives here in the Marcellus Shale in New York and Pennsylvania
Santa Fe, NM (PRWEB) October 16, 2009
Split Estate, the story of a David versus Goliath struggle raging in the West, has communities across the country clamoring for early screenings.
"We are fighting for our lives here in the Marcellus Shale in New York and Pennsylvania," resident Diane MacInnes recently stated in an interview. "Split Estate may save us."
This compelling documentary shows the dirty side of natural gas, an energy source the industry touts as a clean alternative to fossil fuels. Upstate New York, Pennsylvania, and Colorado are just a few of the many states threatened by new development. The film is triggering explosive debate at sneak preview screenings in industry communities.
This week in Garfield County, Colorado, the County Commissioners stopped a vote on a resolution to either support or reject the new FRAC Act until they had a chance to see the film in a special screening.
The rest of the country will have a chance to see Split Estate this Saturday, October 17, when it airs as a World Television Premiere as part of the Reel Impact series on Planet Green, a network of Discovery Communications.
Reel Impact is Planet Green's new Saturday night documentary block, which is making its splash with enviro classics like the Emmy-award winning An Inconvenient Truth, Werner Herzog's Grizzly Man, Who Killed the Electric Car, and The 11th Hour, narrated by Leonardo DiCaprio.
Reel Impact is also featuring groundbreaking new works such as No Impact Man and The Last Beekeeper, as well as Split Estate.
Split Estate maps a tragedy in the making, as citizens in the path of a new drilling boom in the Rocky Mountain West struggle against the erosion of their civil liberties, their communities and their health.
As our appetite for fossil fuels increases despite mounting public health concerns, Split Estate cracks the sugarcoating on an industry that assures us it is a "good neighbor," and drives home the need for real alternatives -- both here and abroad.
"With attention now turning toward the New York City watershed and the battle that promises to ensue there over the future of the city's clean drinking water," notes Director Debra Anderson, "We're hoping that Split Estate will raise awareness about the true cost of irresponsible drilling and empower communities to work with local policy makers to protect their health, their rights and their land."
"It is impossible to over-estimate the impact Split Estate had in the greater Santa Fe Community when it was threatened with wildcatting oil development," commented Brian Egolf, New Mexico State Representative. "The film made a difference; we now have an educated community and the best natural resource ordinance in the United States."
Split Estate premiered at DocuWeeks in New York and Los Angeles in August, which qualified it for Academy Award consideration.
Catch Split Estate on October 17th (8PM EDT, 7PM CDT, 6PM MDT and 5PM PDT); October 18th (12PM EDT, 11AM CDT, 10AM MDT, and 9AM PDT); October 22 (11PM EDT,10PM CDT,9PM MDT, 8PM PDT) and October 23rd (3PM EDT, 2PM CDT, 1PM MDT, 12PM PDT)
Trailer: http://www.youtube.com/watch?v=bvT4PycSAPk
###