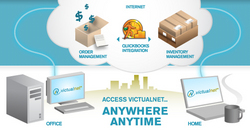 The easy part is done. We have the most compelling solution for order management and inventory control in the food industry. Now comes the hard part; getting the word out about it to the industry.
Bucks County, PA (PRWEB) October 21, 2009
Integrated Management Solutions releases VictualNet ( http://www.VictualNet.com ), the order entry and inventory management solution for food distributors and processors using QuickBooks. President Paul Hernandez-Cuebas comments, "The easy part is done. We have the most compelling solution for order management and inventory control in the food industry. Now comes the hard part; getting the word out about it to the industry."
VictualNet food order and inventory management is a web-based Software-as-a-Service (SaaS) offering; A proven model in other industries that allows for companies to gain access to high level technology and services with minimal to no capital investment. VictualNet is however the first true web-based SaaS model for food distributors and processors.
"This is a whole new way of doing business, customers are not forced to buy a server, maintain a network, or deal with upgrades and maintenance plans." Utilizing the power of cloud computing and an advanced Java driven browser interface VictualNet requires no installed client software to run. "These are all great for business but the flip side is you have to explain the way the model works every time you talk about it because it's so new." Paul says, "We did this twenty years ago when we introduced VictualNet's enterprise class sister product Food Connex, now we're doing it all over again."
Part of the problem, VictualNet is so inexpensive it is almost unrealistic. "People look at our $199 per month price tag and want to start adding hardware costs and network setup costs and all the other costs associated with a traditional solution because they've been trained to believe that those costs are necessary, when in fact, they're not." Paul explains, "VictualNet takes advantage of state-of-the-art technology to deliver a service at a fraction of the cost of the traditional client-server and .net models. We're running so fast and strong that we can offer unlimited users at a price point lower than most other solutions offer for one user."
To combat this trained response Integrated Management Solutions has been working with a group of Early Adopters, business owners of food distribution and processing companies who are looking to obtain a competitive advantage. "Our early adopters have been great; they've really helped us bridge the gap between state-of-the-art technology and a traditional marketplace. We've been working in the food industry for over twenty years and time and time again we've found that the best way to demonstrate the power of our solutions is to point towards a current customer and say 'go talk to him.' This is of course a challenge when you're introducing a new product; thankfully we have had some really great early adopters whose success will be the foundation of our success."
"We also have an Ace-in-the-Hole, QuickBooks. For twenty years we've been working against QuickBooks replacing it with our own accounting package." Paul reveals, "With VictualNet we've turned that model on its head by marrying the flexibility of the QuickBooks accounting package to the rock-solid food inventory management and order entry capabilities of VictualNet. Now your accountant isn't forced to give up the package they know so you can get the tools you need."
With a growing list of referenceable success stories Paul is looking towards the future, "We feel that we will have significant market traction when we reach 30 active early adopters, and that is our goal for January 2010." Paul laughs, "And then 'the easy part will be over' and we'll start on our next phase, leveraging the success of our early adopters to introduce VictualNet to the rest of the market."
###