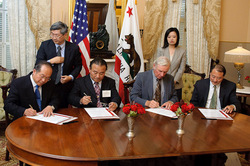 But the world is beginning to realize California fills an important niche in providing high quality wheat for specialty products.
Woodland, CA (PRWEB) October 19, 2009
In a historic trade mission to California, a delegation of Taiwanese agriculture officials has signed a joint-agreement to pursue the importation of wheat from the Golden State, the California Wheat Commission announced today.
The news is significant because it opens the door for the state's wheat growers to boost international sales of its crop, said Robert Falconer, Executive Director of the California Wheat Commission.
"We're very excited about this development because it obviously benefits California growers when export markets expand and the world is competing for our product," he said.
Furthermore, the international interest in California wheat underscores the high quality and diverse type of wheat grown in California, said Falconer.
"These international trade missions typically skip us in favor of the major Midwestern wheat growers," he said. "But the world is beginning to realize California fills an important niche in providing high quality wheat for specialty products."
Some varieties of California wheat grown are of extremely high quality and are ideal for certain types of Far Eastern cuisine such as Asian noodles, he said.
The joint communiqué was formalized earlier this month when officials from the Commission and the California Department of Food & Agriculture met with the Wheat Procurement Delegation of the Taiwan Agriculture Good Will Trade Mission, which was visiting the Golden State for the first time.
The state's wheat commission coordinated the visit as well as local tours for the dignitaries culminating in a signing ceremony held at the Leland Stanford Mansion in Sacramento.
The joint communiqué - signed by Mr. Shao-Fu Hung, Executive Director of the Taiwan Flour Mills Association and California Department of Food and Agriculture Secretary A.G. Kawamura - reiterated the desire to maintain longstanding friendship and trade relations with California, and to purchase California wheat. Mr. Thomas J.C. Chen, Director General of the Taipei Economic and Cultural Office in San Francisco and Mr. Larry Hunn, Chairman of the California Wheat Commission also signed the document as witnesses.
During its trip to the Sacramento region, the Taiwanese delegation also paid a visit to the laboratory facility of the California Wheat Commission to discuss quality and milling characteristics of California wheat varieties. The delegation also visited the operations of Penny-Newman Grain at the Port of Stockton and Adams Grain in Woodland.
About the California Wheat Commission
The California Wheat Commission was established in 1983, expressly to develop and maintain domestic and international markets for California wheat and support research that improves California wheat quality and marketability. The Commission, operating under the California Food and Agriculture Code, is funded by wheat growers and is guided by a board of fifteen wheat farmers, two handlers - each with an alternate member and one public member. California wheat production covers over 600,000 acres with a farm value of 167 million dollars.
# # #