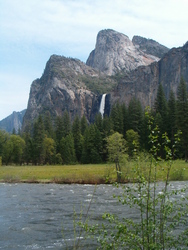 Madera County has a rich and vibrant tourism product base
Oakhurst, CA. (Vocus) October 16, 2009
As the marketing world continues to change, new tools and media constantly become available. Facebook is one of these tools quickly gaining popularity, and the Yosemite Sierra Visitors Bureau is capitalizing on the popularity to spread the word of California's Gateway to Yosemite.
Originally started to give college students a social network free from younger kids and parents, Facebook has become a phenomenon. If Facebook were a country, and its users the residents, in January it would have been the eighth most populated country in the world. In April, it became the fifth. In September, the rapidly growing giant announced it had reached over 300 million users. At that rate, it is a likely bet that Facebook has surpassed the United States as the third most populated country, as the US boasts a "paltry" 307,705,000 citizens.
Facebook isn't just for kids anymore either, as the quickest growing demographic is users in their 50s and above. It's this diverse reach that created Facebook's allure to the YSVB as a marketing tool. "Facebook has such a tremendous reach with users with numerous interests. Facebook allows us to target those interested in Yosemite National Park and the numerous attractions from the valley floor of Madera County on up to the slopes of the Sierra Nevada in the east of the county," said Jarrod Lyman, Director of Media for the YSVB. "Now our marketing efforts allow us to reach and, more importantly, really interact, with people who are interested in what our region has to offer."
The area offers a diverse array of attractions. As the southern entrance to Yosemite National Park, Madera County has become known as "California's Gateway" to the iconic valley. While the park draws countless visitors through the region on Highway 41, numerous other attractions round out the area, according to tourism officials.
"Madera County has a rich and vibrant tourism product base," said Dan Cunning, CEO of the YSVB. "From Bass Lake, which has been named as one of the West's Best Lakes, to the numerous wineries along the Madera Wine Trail to the Madera District Fairgrounds which host numerous events, we have a lot to offer. Our Facebook page lets us keep our fans up to date on the latest goings on. And with all we have to offer, that's a lot," he said.
In addition to keeping people informed of the goings on, of the goals of the page is to allow people to share their photography. "We are in such a beautiful region that has attracted so many talented professional and amateur photographers alike, we want everyone to be able to show off their favorite shots," said Lyman.
The YSVB's Facebook fan page has quickly amassed over 150 fans in about a month, but Lyman is hoping to see more. "So many people have traveled to our region and it touched their lives, we would love to hear from everyone," he said.
The groups website page can be found at http://www.facebook.com/yosemitesierra.
###