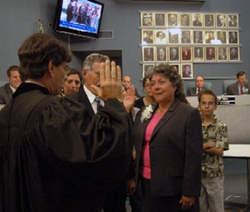 I'm interested in making sure the voices of the people are heard
Miami Beach, FL (Vocus) October 17, 2009
In 2007, against the conventional wisdom, Matti Herrera Bower became Miami Beach's first female and first Hispanic Mayor. With the support of her predecessor, family and friends, Bower, a longtime resident, activist and two-term Commissioner, rode a strong, grassroots, all-volunteer, residents-first campaign to a resounding victory.
Mayor Bower began her career as a community activist over thirty years ago as the President of the Feinberg Fisher Elementary School Parent Teachers Association (PTA).
Her evolution from PTA mom to Mayor has been a continuous process of moving from problem to problem.
Her enthusiasm for helping others – with problems big and small – and her independent-minded leadership have endeared her to both the residential and business community she serves.
The constant theme in her service to the community of Miami Beach, is her unwavering support for the average person who usually doesn't get a voice in government and it is the main reason that she should be re-elected this November 3, 2009.
"I'm interested in making sure the voices of the people are heard" exclaims Matti.
"The people who can afford to hire lobbyists will always be heard," Bower said. I want that the City of Miami Beach also hears the voices of the little old lady who needs public transportation, the children who need a safe place to play, or the small business owner struggling with parking issues. I'm a regular person and I always look at every issue and how it affects our residents and businesses." Bower said.
Mayor Bower is also the recipient of numerous awards including the Miami Beach Development Corporation Founding Chairman's award, City of Miami Beach Community Heroes award, Miami- Dade Park and Recreation Department's In the Company of Women Pioneer award, MDPL Chairman's Award, Boys and Girls Club Award, the National Housing award, the South Florida Hispanic Chamber of Commerce Women of Leadership award and Women Worth Knowing award from the Miami Beach Commission on the Status of Women – and many more.
A vote for Matti Bower for Mayor is a vote for the City of Miami Beach's future.
Vote for Matti Herrera Bower!
To see Matti Herrera Bower's record of achievement go to http://www.reelectmattimayor.com/accomplishments.html and http://www.youtube.com/results?search_query=mayor+matti+bower
About Mayor Matti Herrera Bower
Matti Herrera Bower was elected Mayor of Miami Beach, Florida on Tuesday November 20th, 2007 at a run-off election by a commanding 54 percent popular vote to her opponent's 46 percent. She is the city's first female and Cuban-American Mayor. For more info on Mayor Bower see http://www.reelectmattimayor.com/index.html
###