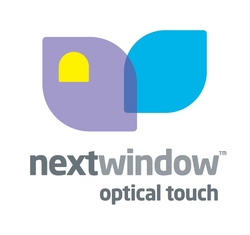 We are delighted to accept this award from the Australia and New Zealand Chamber of Commerce
Taipei, Taiwan (PRWEB) October 16, 2009
NextWindow, the market and technology leader in optical touch screens for desktop PCs and large-format displays, today announced that the Australia and New Zealand Chamber of Commerce in Taipei, Taiwan, has recognized NextWindow with a 2009 ANZCham Business Excellence Award. The award acknowledges companies from Australia and New Zealand that are operating in Taiwan and have forged significant business relationships with Taiwanese companies.
NextWindow received the award last night at an event honoring all 2009 Business Excellence Award winners.
NextWindow customers in Taiwan are the PC industry's leading original design manufacturers (ODMs) and original equipment manufacturers (OEMs). These companies are using NextWindow touch screens to build the next generation of "touch PCs," a market that analyst firm DisplaySearch forecasts will reach $9 billion by 2015. In 2009, NextWindow significantly increased its support for Taiwanese ODMs and OEMs by establishing corporate offices in the country. The office is staffed with key executive, account and engineering staff whose charter is to maintain and grow these important ODM/OEM relationships.
"We are delighted to accept this award from the Australia and New Zealand Chamber of Commerce," said NextWindow CEO Al Monro. "It demonstrates our commitment to the Taiwanese market, in which we've made a sizable investment. Our primary focus over the next 12 - 18 months is supporting the world's leading ODMs and OEMs, many of whom are based in Taiwan. As such we will continue to put forth all the resources that are necessary to help these companies build new and exciting touch PCs."
About NextWindow
NextWindow is a leader in touch-screen technology and a major manufacturer of optical multi-touch displays for OEMs, ODMs and resellers. With highly accurate, cost-effective solutions designed for personal and business use, NextWindow provides the hardware necessary to bring touch-screen technology to life--giving software designers the freedom to create exciting and intuitive applications. Founded in 2000, NextWindow is privately held with offices in New Zealand, Taiwan, California and Singapore, with manufacturing facilities throughout Asia. More information about NextWindow is available at http://www.nextwindow.com.
Company contact:
David Villarina, NextWindow
+1 (925) 272-4530
# # #