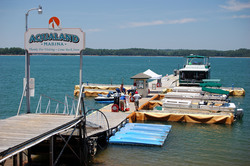 Flowery Branch, GA (PRWEB) October 17, 2009
A Georgia Public Broadcasting crew recently spent a day filming at Aqualand Marina on Lake Lanier, Georgia, as part of an upcoming documentary on what has become known as the Tri-State Water Wars. Aqualand was the only marina on Lake Lanier interviewed for the documentary.
The Tri-State Water Wars refers to the legal and political battle over water rights waged between Georgia, Florida and Alabama since the early 1990s. Lake Lanier has been stressed by the region's water demands, which have been made worse by three serious droughts in the area since 1988. The most recent drought lasted from 2006 until this past spring.
At its low point, Lanier - which is usually a 38,000-acre lake - shrank to just 30,000 acres. Real estate suffered as lakefront homes suddenly had no lake in front of them. Boaters looking to access the lake found public boat ramps high and dry. And marinas suffered as demand for slips decreased, and docks needed to be moved to stay in water. During the drought, Aqualand had to move over 30 docks at a cost of over $800,000 . . . a cost not covered by insurance.
Aqualand Marina is the largest inland marina in the world, with more than 1,700 wet slips. For more information on the marina, visit http://www.AqualandMarina.com
# # #