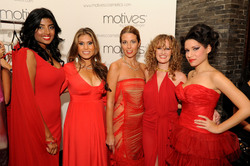 I am thrilled to host the Red Dress Fashion Show in support of the American Heart Association and proud to donate proceeds from our new
Miami Beach, FL (PRWEB) October 17, 2009
Motives by Loren Ridinger
launched its new "Go Red" lipstick Thursday October 15 and announced 25 percent of all proceeds will be donated to the American Heart Association. Ridinger, senior vice president of Market America and creative director of Motives, hosted the Red Dress Fashion Show benefiting the American Heart Association during Funkshion Fashion Week Miami Beach at the Setai Hotel where the official announcement was made.
The American Heart Association is the nation's oldest and largest voluntary health organization dedicated to building healthier lives, free of heart disease and stroke. To help prevent, treat and defeat these diseases -- America's No. 1 and No. 3 killers -- the American Heart Association funds cutting-edge research, conducts lifesaving public and professional educational programs, and advocates to protect public health.
"Heart disease is the number one killer among women today and is something all of us have been affected by or will be affected by at one point in our life," said Ridinger. "I am thrilled to host the Red Dress Fashion Show in support of the American Heart Association and proud to donate proceeds from our new "Go Red" lipstick to help fund the cause to stamp out this horrible disease."
Since 2004 The American Heart Association through its Go Red For Women movement has captured the energy, passion and intelligence of women to work collectively to wipe out heart disease. Using the simple platform "Love Your Heart," Go Red For Women engages women - and the men who love them - to embrace the cause. Top designers from around the world will donate dresses for the Red Dress fashion show with celebrities modeling the dresses on the runway.
To purchase Motives by Loren Ridinger "Go Red" lipstick in support of the American Heart Association, go to motivescosmetics.com. To learn more about the American Heart Association visit http://www.americanheart.org or for more information on the Go Red For Women Movement visit http://www.GoRedForWomen.org.
About Motives by Loren Ridinger:
Motives by Loren Ridinger through revolutionary cutting edge technology is a world leader in the customized cosmetics industry. Motives is worn by some of today's hottest celebrities and is a favorite of makeup artists, models and photographers. Motives by Loren Ridinger strives to empower people everywhere to look and feel beautiful inside and out, while providing thousands of consultants worldwide with an opportunity to live the lifestyle they have always dreamed of. For more information visit http://www.motivescosmetics.com and Creative Director Loren Ridinger's blog at http://www.myfashioncents.com.
About Market America:
Market America is a product brokerage and Internet marketing company that specializes in One-One-Marketing. With more than six million customers and 180,000 Customer Managers worldwide, the company has generated over $3 billion in accumulated retail sales. Headquartered in Greensboro, NC - the company was founded in 1992 by president and CEO James Ridinger and employs over 500 people globally with international operations in the United States, Canada, Taiwan, Hong Kong and Australia. Through its revolutionary One-to-One Marketing concept, Market America combines the Internet with the power of people - creating the ultimate online shopping destination. More information is available at http://www.marketamerica.com.
###