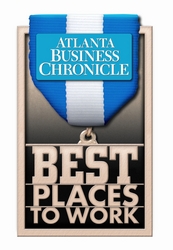 Atlanta, GA (PRWEB) October 19, 2009
Carithers-Wallace-Courtney LLC (CWC), Atlanta's largest office furnishings provider, announces its ascent to the Number 3 position on the Atlanta Business Chronicle's Eighth Annual List of Best Places to Work (medium company category). This highly respected award is based on a quantitative employee survey of human resource values, including team effectiveness, goal alignment and trust of management and coworkers.
Last year, CWC ranked number 18 on the Chronicle's list of Best Places to Work. This year, CWC jumped to the number 3 spot, an enormous milestone, especially in today's down market. What makes the award even more significant is that it is based solely on employee feedback. A recognition of this magnitude is a living testament to CWC's commitment to its people and their dedication to company and customers.
"During an unprecedented downturn in the office furniture industry, our employees have persevered by looking for light and exceeding our customers' expectations. Our employees know that 'Workplace Matters' when it comes to providing enthusiastic service and creating great places to work for our customers and for our employees to enjoy," notes Scott Marshall, CWC Principal and Vice President of Sales & Marketing.
Over 98% of CWC employees participated in the survey for this year's Best Places to Work award. The privately-held company currently has 124 valued employees.
Conducted by the Atlanta Business Chronicle, the 2009 competition included more than 500 nominated companies, a 90 % increase from 2008. Over 67,000 employees in Atlanta were surveyed. Quantum Market Research, Inc. facilitated the collection of anonymous electronic surveys submitted by each competing company's employees. The survey was designed to identify, recognize and honor the companies that recognize their employees as their greatest asset and are committed to maintaining a company culture based on trust in management.
About the Award
Currently in its eighth year, The Best Places to Work award was created by the Atlanta Business Chronicle. Companies compete in three categories: small (up to 100 employees); medium (101-500 employees) and large over 500 employees. The purpose of the award is to recognize and honor companies that have created positive work environments and share best practices. The listing promotes local employers and provides valuable feedback and data to participating companies that will assist them in measuring levels of employee satisfaction and engagement. http://atlanta.bizjournals.com/atlanta
About CWC
A full service office furniture dealer, Carithers-Wallace-Courtney LLC (CWC) is the creative force behind some of the most prestigious offices throughout Atlanta and the Southeast. The company is a Certified Herman Miller Network Dealer. Since its humble beginnings as a small office furniture dealership in 1929, CWC has built its reputation on delivering enduring furniture solutions and unparalleled service for its customers. Today CWC is recognized as Atlanta's largest dealer by a significant margin. Also ranked as Number 3 for Best Places to Work by the Atlanta Business Chronicle for medium sized companies, CWC prides itself on creating great places to work and enjoy by thinking like a customer and exceeding their expectations. The company has earned the Number 1 spot on the Chronicle's List of Top 20 Office Furniture Dealers for the last five years. http://www.c-w-c.com
# # #