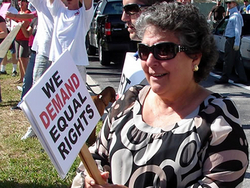 Thank you for giving me the best years of my life working for you in Miami Beach, but we have a lot more work to do and this is why I'm asking you for your vote this November 3, 2009
Miami Beach, FL (Vocus) October 17, 2009
"Thank you for giving me the best years of my life working for you in Miami Beach, but we have a lot more work to do and this is why I'm asking you for your vote this November 3, 2009"! exclaims Bower.
Mayor Bower has worked tirelessly on issues that directly affect the people of Miami Beach. "I started out as a community activist, first as PTA president at Fienberg Fisher, Nautilus and Beach High. Working in the schools set me on a life-long path of getting involved for the benefit of this great city's people" states Bower.
"I've always been about bringing government down to the street level, where people need it" exclaims Bower.
As a commissioner, she led the Miami Beach fight against the movement to rescind the Miami-Dade County Human Rights Ordinance, which protects the rights of everyone, regardless of an individual's sexual orientation.
In 2009, as Mayor, she convened the first Miami Beach Women's Conference and created the first city-supported gay pride festival in Miami Beach history.
There is so much more that Matti has accomplished for so many in the last 2 years as Mayor. To read more about her accomplishments go to http://www.reelectmattimayor.com/accomplishments.html and http://www.youtube.com/results?search_query=mayor+matti+bower
"When I first ran for mayor, a lot of people, even my friends, said, "Matti, we love you, but you're never going to get elected." states Matti. However, Matti did get elected because of her tireless engagement and because of the gratitude of the people of Miami Beach.
It can be done again. You can do it again! Re-elect your Mayor Matti Bower this November 3, 2009.
As the "Peoples' Mayor" Matti works hard to serve the diverse needs of all the people of Miami Beach: the children, seniors, working parents, retirees, business owners, students, artists, homeowners and renters who reside in the City of Miami Beach.
A vote for Matti Bower for Mayor is a vote for the City of Miami Beach's future!
About Mayor Matti Herrera Bower
Matti Herrera Bower was elected Mayor of Miami Beach, Florida on Tuesday November 20th, 2007 at a run-off election by a commanding 54 percent popular vote to her opponent's 46 percent. She is the city's first female and Cuban-American Mayor. For more info on Mayor Bower see http://www.reelectmattimayor.com/index.html
###