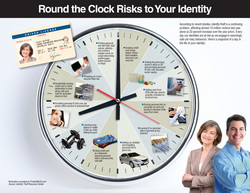 The ITRC recognizes the benefits of ProtectMyID.com because it offers advanced identity theft protection, like daily Web sweeping and change of address notification
Irvine, CA (PRWEB) October 19, 2009
ProtectMyID.com™, the multilayered identity theft detection, protection and fraud resolution product, today announced its alliance with San Diego-based Identity Theft Resource Center (ITRC), a nonprofit, nationally respected organization dedicated to supporting victims of identity theft and broadening public education of this crime. Through the alliance, the ITRC provides ProtectMyID.com with expertise, staff development seminars and collaboration on various identity theft/protection consumer education initiatives, including the infographic and tips released today.
"The ITRC recognizes the benefits of ProtectMyID.com because it offers advanced identity theft protection, like daily Web sweeping and change of address notification," said Linda Foley, founder of the Identity Theft Resource Center. "Having personally been a victim of identity theft, I know firsthand that if I had been a member of ProtectMyID.com, their alerts would have served as early indicators that my identity had been compromised."
In commemoration of National Protect Your Identity Week (Oct.17-24, 2009), the ITRC and ProtectMyID.com created an infographic to highlight the many risky behaviors consumers participate in each day that increase the chances of their personal information being compromised and to offer the following identity protection tips.
Simple tips to reduce the risk of identity theft:

Do not post personal information, such as your birthday, on social networking sites.
Monitor bills and credit reports for any fraudulent activity on all existing accounts.
Treat everything online as viewable to the entire world.
Do not carry your Social Security card or provide your Social Security number (SSN) on medical forms. There are only a few situations that legally require your SSN, i.e., for employment, tax forms or bank records.
Choose online or "paperless" statements, as fewer documents going through the mail with personal information mean fewer opportunities for thieves.
Shred all sensitive information with a diamond or cross-cut shredder.
Infographic: round-the-clock risks to your identity
"Many people think they are doing all they can to protect themselves against identity theft, but the reality is that it is often out of their control," said Jennifer Leuer, general manager of ProtectMyID.com. "It's very hard for anyone to keep track of all the different ways personal information can be exposed, like the sale of Social Security numbers in chatrooms. Our product adds layers of defense that people can't do themselves."
Identity theft is a serious and growing crime, estimated by the U.S. Federal Trade Commission (FTC) as being a $50 billion-a-year industry that continues to expand its reach. It can take on many forms. Identity thieves may rent an apartment, obtain a credit card or establish a telephone account in someone else's name.
"Identity theft remains a prevalent and crippling crime, and while it can never be completely prevented, people can do things to defend themselves against it," continued Foley. "Once that basic understanding is there, they can take steps to reduce their risks, either on their own or with a trustworthy partner that specializes in identity monitoring."
Core features of ProtectMyID.com include:

Active Internet scans that search for key indications of potential fraudulent use of members' debit, credit card and Social Security numbers.
Notification alerts that inform members when a change of address action (both residential and credit account-based) is initiated.
Daily monitoring of its members' credit reports at all three credit reporting agencies, with alerts as key changes are detected.
Access to U.S. Fraud Resolution Agents, providing members with trained assistance in resolving identity theft issues.
Member notification alerts via e-mail, text message or U.S. mail (as determined by the member).
ProtectMyID.com's Product Guarantee, which reimburses for up to $1 million in related losses and expenses in the event the product fails. The Product Guarantee is subject to limitations. See the product's Web site for details.
About the ITRC
The Identity Theft Resource Center® (ITRC) is a non-profit organization established to support victims of identity theft in resolving their cases, and to broaden public education and awareness in the understanding of identity theft. It is the on-going mission of the ITRC to assist victims, educate consumers, research identity theft and increase public and corporate awareness about this problem. If you are an identity theft victim call the ITRC toll-free at 1 (888) 400-5530 for no-cost assistance. Visit http://www.idtheftcenter.org.
About ProtectMyID.com
ProtectMyID.com is a leading, full-service provider of proactive identity theft detection, protection and fraud resolution. ProtectMyID.com offers comprehensive identity theft protection products supported by experienced fraud resolution agents who deliver personal attention that customers can rely on. ProtectMyID.com is a Web site owned by ConsumerInfo.com Inc., an Experian company. For more information about how ProtectMyID.com helps consumers protect themselves against identity theft, please visit http://www.ProtectMyID.com.
About Experian
Experian® is the leading global information services company, providing data and analytical tools to clients in more than 65 countries. The company helps businesses to manage credit risk, prevent fraud, target marketing offers and automate decision making. Experian also helps individuals to check their credit report and credit score and protect against identity theft.
Experian plc is listed on the London Stock Exchange (EXPN) and is a constituent of the FTSE 100 index. Total revenue for the year ended March 31, 2009, was $3.9 billion. Experian employs approximately 15,000 people in 40 countries and has its corporate headquarters in Dublin, Ireland, with operational headquarters in Nottingham, UK; Costa Mesa, California; and São Paulo, Brazil.
For more information, visit http://www.experianplc.com.
Experian and the marks used herein are service marks or registered trademarks of Experian Information Solutions Inc.
Other product and company names mentioned herein may be the trademarks of their respective owners.
###