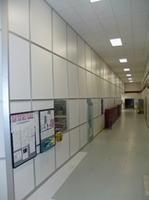 In today's environment, companies need flexibility. This solution allows companies to quickly reconfigure workspace
Burnsville, MN (PRWEB) October 18, 2009
Gerbig Engineering Company, a designer, fabricator and installer of cleanrooms and cleanroom equipment, announced today the capability to provide and install modular plant or facility partitioning walls. The walls are attractive, durably constructed and easy to install.
These walls are ideal for separating clean manufacturing areas from other areas such as shipping, storage, offices etc. They can divide areas with ceilings as high as 20 feet.
The walls are very economical and can be erected quickly with minimum disruption to the work area. Because they are modular, changes to room sizes or expansions are easily and economically handled.
"In today's environment, companies need flexibility. This solution allows companies to quickly reconfigure workspace," said Fred Gerbig, President of Gerbig Engineering.
Gerbig Engineering continues to develop innovative solutions for manufacturing companies requiring cleanroom or semi clean environments. These solutions include a variety of cleanroom products and services, including cleanroom pass thrus, work benches, softwall cleanrooms, modular cleanrooms as well as hard wall cleanrooms.
Gerbig Engineering is a privately owned company located in Burnsville, MN. The company specializes in designing, fabricating and installing cleanrooms and cleanroom systems, including medical cleanrooms and cleanrooms for the pharmaceutical industries. Products include modular cleanrooms and softwall cleanrooms, cleanroom workstations, and pass-through units.
# # #