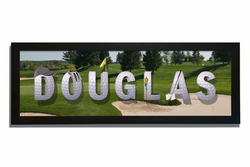 We've made it simple and easy to create your own customized artwork, yet the finished product is a fine-art masterpiece
Long Island, NY (PRWEB) October 20, 2009
Daughter-parent team Laurie, Denis and Rosemary Conway created Letters that WOW, an online art boutique where customers can design their own interest-related art using various backgrounds, themes and letters and have it printed and framed into a striking, statement-making art piece. The idea was originally conceived by Laurie who, after viewing a photo of a box of chocolates and seeing the letter 'L', had an artistic vision to create a high-end, personalized piece of artwork reflecting an individual person's passion.
After bringing the idea to her father (a veteran of the market research and IT fields) and mother (a creative and decorative spirit), the three set out to create a sample piece different from other personalized, hobby-based artwork on the market. After completing the process of choosing sports themes, backgrounds, letter design and framing options, the three determined that the actual 'creation' of the product was one of the factors that made the idea so special.
The family created an easy-to-use website where customers can log on to http://www.lettersthatwow.com to create their personalized sports art. The final image is printed on canvas using archival printing methods, gift-wrapped and delivered to the recipient in a beautiful, upscale presentation. "We've made it simple and easy to create your own customized artwork, yet the finished product is a fine-art masterpiece," said Laurie Conway. Customers love logging-on to create personalized gifts for family, friends and co-workers. They also make great group gifts, such as a team presenting to a coach.
The quality of the artwork is due to the family's specialized process, combining graphic design, photography and digital technology printed on fine art canvas with archival inks. Each set of photographic letters is designed by their talented artist and a professional photographer provides high-resolution background images. Current themes include golf, football, baseball, soccer and basketball, and plans for additional sports and other life interests will be added on a regular basis.
The size of the art piece varies by the number of letters selected but averages 35" x 13" when framed. There is a 13-letter maximum for each piece; however, they do accept custom orders.
The family also is dedicated to giving back to the community by donating artwork to various charity auctions. Recently, the family had success working with representatives of the American Cancer Society, who auctioned a Letters that WOW piece signed by 37 pro-golfers from the recent U.S. Open at Bethpage Black for $1,050.
A framed personalized art piece is a great gift item for birthdays, holidays and other special occasions. Passionate sports enthusiasts, youth and adult athletes, coaches and soccer moms will enjoy having a one of a kind keepsake to proudly display in their home or office. The pieces range from $89 (unframed) to $209 - cost depending on framing option chosen.
For more information visit http://www.lettersthatwow.com
###