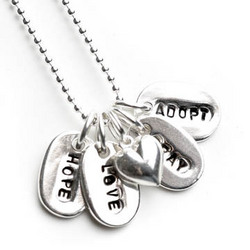 The bracelet is an utter joy to my mother
Vista, CA (Vocus) October 17, 2009
Sentimental Silver launches a new line of jewelry centered around the joys of adoption. While embarking on the adoption process herself, owner and designer of Sentimental Silver, Christi Farr Johnstone, understands that the process can be long and fraught with emotion, but an unforgettable experience. This ultimately has inspired her to create a collection offering unique and sentimental pieces for those whose lives are touched by adoption.
While stores are full of products celebrating pregnancy, products for women whose journey includes adoption are much harder to find. Sentimental Silver's is excited to help fill that void with adoption necklaces that can be customized with special words such as 'adopt', 'hope', 'pray', 'miracle', 'faith' or 'love', with names or dates, and for those who are adopting internationally, the name of a country can even be added to their necklace. A special necklace can even be created as a gift for a birth mother, something adoptive mothers are often looking for as open adoptions become increasingly popular. With each and every necklace being a one of a kind creation, the design possibilities are endless, and they make thoughtful gifts for those who have adopted, and those who are still on their journey to adoption.
Versatility and customizability are staples of Sentimental Silver's designs. They feature a full line of jewelry that can be worn with a chic outfit for a night on the town, or can be thrown on with a pair of jeans and a top for a casual trip to the park. Each piece of Sentimental Silver's jewelry is hand stamped with any name, date, or word desired. Engrave a pendant with your siblings' and your own names and give it as a gift to your mom on mother's day, or get one for yourself with your children's names on it.
The jewelry's unique look paired with the silver's brilliant shine offer the image of refinement and chic style that women strive to achieve in their accessories. The significance that can be packed into such a small package is immense as many satisfied customers have mentioned in their testomonials:
"The bracelet is an utter joy to my mother," said a happy customer. "This is the perfect everyday piece for me."
All jewelry is constructed from .999% pure recycled silver and is completely hand made in Christi's hometown of Phoenix, Arizona - making these a proud product of the USA! Christi's jewelry is made with the intent that they will be worn and cherished for a lifetime, and with the quality craftsmanship to make it so.
Demand for Sentimental Silver's sweet and simplistic designs is on the rise and can be seen on such fashionable celebrity moms as Ugly Betty's Ana Ortiz and Friend's Courtney Cox Arquette's daughter. Their products have been featured in magazines such as: Chicago Parent, Pregnancy, National Jeweler, and Yes.
Visit their site at http://www.sentimentalsilver.com
###