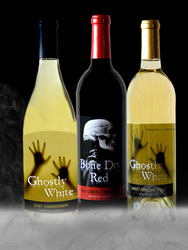 where parents congregate after children are finished trick-or-treating.
Owenton, KY (PRWEB) October 18, 2009
Elk Creek Vineyards, Kentucky's largest winery, takes the mystery out of last-minute Halloween planning with its offering of three wickedly-fun wines: Bone Dry Red, Ghostly White Chardonnay and Ghostly White Sweet Mellow. It's not too late to pick your poison from these themed varietals: Ghouls are working through the night to ensure same-day shipping of most online orders!
Bone Dry Red is a rich, well-oaked Cabernet Sauvignon brimming with fancy ripe black currant, roasted coffee bean and bitter dark chocolate flavors; all are framed in suave tannins. Ghostly White Chardonnay, barrel- fermented in French oak, reveals ripe apple fruit and hints of citrus. Ghostly White Sweet Mellow will satisfy taste buds which crave the fruity complexities of the Cayuga and Vidal Blanc grapes.
Halloween falls on a Saturday this year, creating "a sort of harvest moon in adult party-planning potential," Elk Creek Vineyards founder Curtis Sigretto says. Sigretto, who also founded Halloween Express,® the country's #2 costume retailer, predicts the bottles' unique, gift-worthy labeling "is sure to be a scream at parties." He expects the wine to flow freely around neighborhood fire pits "where parents congregate after children are finished trick-or-treating."
Elk Creek Vineyards' Halloween wine --and its complete selection of award-winning spirits-- is available online. (We are currently unable to ship to the following states: AL, AK, AR, DE, IL, IA, KS, MA, MD, ME, MI, MN, NJ, NM, NY, OK, PA, RI, SD, TN, UT and WI.) Also, look for coffin displays in Kentucky-area Krogers as well as select wine stores. Supplies are limited.
Nestled among the rolling hills of Kentucky in Owenton, Elk Creek Vineyards was established in 2003. Elk Creek, located approximately one hour from Lexington and Louisville, KY, and Cincinnati, OH, also features a summer outdoor concert series, art gallery, café and B&B lodging and is adjacent to the Elk Creek Hunt Club, a world-class sporting clays resort.
###