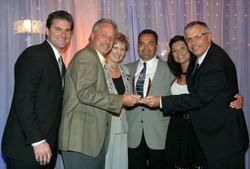 I have been trying to do it on my own for a long , LONG time. Now I have a good chance to
Castle Rock, CO (PRWEB) October 28, 2009
Online Trading Academy Colorado swept up six awards at the Online Trading Academy International Conference October 11-13, 2009 in Irvine California. No other Center in the Online Trading Academy worldwide network with 32 centers earned as many awards.
The local Colorado Academy earned "Instructors' Choice" Award for the best location and hospitality; "Silver Center" and "Bronze Center" for attaining benchmark revenue levels; "Shooting Star" award for Education Counselor Rod Andrews' performance; and "Diamond Stars" for Education counselors Rod Andrews' and Brian Clodius' outstanding performance.
Online Trading Academy Colorado opened in July 2008 in Castle Rock, CO. The school provides professional-grade financial education for individuals in trading and investing in all asset classes. It is the only brick-and-mortar trading school in the world, and the only trading provider that teaches students to trade with the Academy's capital. Courses are offered in equities, options, foreign currency, futures, real estate, trading psychology, trading plan development, and more.
The Colorado Academy has graduated over 300 students since opening 15 months ago. Graduates are entitled to retake their courses for free as many times as they like for life - not just at the Castle Rock location, but anywhere in the world, currently 32 locations.
Student testimonials include these. "I recommend anyone who is seriously considering trading to take the ProTrader course - no matter how much experience you may already have."
"Anyone who trades without this course information is putting their family's future at risk. Online Trading Academy is a trader's insurance policy, just like the FDIC."
"I have been trying to do it on my own for a long , LONG time. Now I have a good chance to "make it all work. Thanks to Online Trading Academy!"
"Before taking your course, I was losing $245 per day on average. After, I was making $480 per day. Thank you!"
Click here to see a video of a pastor who took Online Trading Academy courses so he could supplement his meager income.
Free half-day financial education workshops are offered to the public with a reservation. This "Power Trading Workshop" covers the harsh realities of the markets and financial industry and 7 Pillars of Trading that help create consistent profits. Call 303.325.2776 for the schedule and to reserve a seat.
###