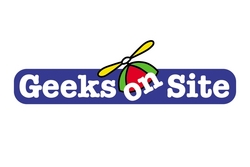 At the rate at which technology changes, it can be difficult to keep up with the latest developments in equipment, or for our customers to decide what devices will best suit their needs
Miami, FL (PRWEB) October 20, 2009
Geeks On Site technicians are required to know more than just computer repairs. It is a growing part of the company's business, repairing and maintaining peripherals. Technicians also work with customers by recommending new accessories that would be useful for their particular needs.
Customers have a vast selection of electronic devices to choose from, many of which can be used in conjunction with their home or office computer. Choosing the right product can be daunting- there are so many things to consider: compatibility, capabilities, cost, and how user friendly, just to name a few. Here are just a few products Geeks On Site list on their website, geeksonsiteusa.com, as items their technicians are experts in setting up: Ipods, digital cameras, Blackberries, printers, scanners, webcams and microphones.
"At the rate at which technology changes, it can be difficult to keep up with the latest developments in equipment, or for our customers to decide what devices will best suit their needs," says George Otte, Geeks On Site owner, and the company's president.
Geeks On Site considers the "one stop shop" model very useful when marketing to customers, because todays society considers service that is fast and convenient to be very important factors when selecting a company to buy goods or services from.
Geeks On Site advertises themselves as "the total package." The company's aim is to make it easier for the customer by covering the whole gamut of computer repair, support, and product consulting.
###