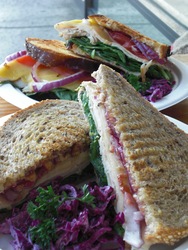 While at the same time, constantly searching for ways to get more involved in our current Franklin Village neighborhood.
Hollywood, California (PRWEB) October 20, 2009
If Whole Foods and 7-11 had a love child, Locali Conscious Convenience might just be theirs. A mom and pop shop meant for the new millennium, Locali offers value and sustainable food service with its full service deli. Catering to vegans and omnivores alike, as well as those with gluten and soy allergies, Locali's unique and delicious soups, salads and sandwiches draw a loyal following.
The small format eco and health friendly market packs a carefully selected inventory of natural and organic food, beverages, coffee, wine, beer, health, beauty and household items into under 500 square feet of retail space. Besides soups, salads and sandwiches, Locali features updated versions of several convenience store favorites. There's agave-sweetened slushies, organic hot pretzels and even vegan nachos to enjoy.
However, it's Locali's pre-packaged meals and baked goods from local food artisans along with their deli menu that have lead sales since the opening in January 2009. "In fact, the majority of Locali's customer base are regulars who visit multiple times daily to enjoy our organic made-to-order menu and grab n' go selections," states owner, Greg Horos.
Locali is also active marketing its menu in the world of social media, successfully posting daily specials on Twitter and their Facebook fan page.
Inspired by in-person satisfaction and positive online dialogues from customers about Locali's fresh sandwiches, Horos along with his wife and business partner, Melissa Rosen, worked with Locali's chef and deli manager, Heather Joy Morrison, to expand their menu. The result is a delectable mix of panini and cold sandwiches that feature Applegate Farms® meats, rBGH-free cheeses and organic produce on locally baked breads.
There is also an additional array of unforgettable vegan sandwiches. Tempeh meatball subs, vegan BLTs and faux rosemary chicken salad sandwiches are some satisfying options for those who don't consume animal products or are looking to reduce their meat intake. In fact, any sandwich at Locali can be made with a non-GMO vegan meat substitute or cheese alternative upon request. All sandwiches can be made with gluten-free bread to accommodate those with celiac concerns. Since there's something for everyone, it's not a surprise that Locali's catering services are increasingly in high demand.
The new menu is rounded out by savory soups, organic salads full of local greens from Kenter Canyon Farms®, gluten-free wraps, loaded baked potatoes, satiating smoothies and a variety of breakfast options. "We're not giving lip service to quality," states Horos, "Melissa, and I source the best ingredients for our patrons and you truly can taste the difference." Those looking for a bargain on Locali's mouthwatering sandwiches will find the deli now offers hearty half sandwiches for under $5.00. "We're committed to a sustainable business model that puts community involvement and customer value first," adds Rosen.
In many ways, Locali is one of the pioneers in the small footprint restaurant and retail movements. "All of our service ware and deli packaging is biodegradable. We commercially compost our waste. Our recycling program benefits Recycled Movie, a film production company that teaches vocational skills to children as they make movies about the environment," notes Rosen, "We also encourage our customers to bring their reusable containers to fill up with free reverse osmosis filtered water, rather than sell petroleum-based plastic bottled water."
Locali strives to do it's part to conserve while at the same time hoping to provide its community with convenient access to healthy and sustainably produced food. Completely gutting their commercial space to be as eco-friendly as possible, Locali's shelving and counters are made from reclaimed Douglas Fir wood, their appliances are energy efficient, their walls are painted with non-VOC paints, their ceiling tiles are made of recycled materials and their lighting, including outside signage, is LED.
Locali's inspired design, eclectic product merchandising and unique menu have attracted the attention of both local and international publications. Locali and their mobile frozen dessert bike, The Icycle has been featured in the LA Times, Vogue Nippon and Madame Figaro.
Greg Horos and Melissa Rosen have a passion for healthy eating and a mission to make a difference through their innovative business model. Facing a litany of franchise requests already, the couple has begun to investigate this avenue of expansion. "We're also looking for the perfect second location in Los Angeles where we can fill a need," states Horos, "While at the same time, constantly searching for ways to get more involved in our current Franklin Village neighborhood." Locali donates to various local charitable causes on an ongoing basis. From volunteering their time to lead green business workshops to working on urban farming projects to sponsoring an elementary school field trip to a Community Supported Agriculture farm, Melissa, Greg and their staff are committed to improving the lives of others in multiple small ways...one sandwich at a time.
About Locali Conscious Convenience:
Locali conveniently connects the community to eco-friendly food, beverage
and lifestyle products. By providing easy access to socially and
environmentally responsible goods, Locali promotes conscious consumerism
and healthy living. http://www.localiyours.com
For editorial inquires, contact:
Melissa Rosen
Founder and Co-Owner
Locali Conscious Convenience
5825 Franklin Avenue
Los Angeles, California 90028
Phone: (310) 779-3439
###