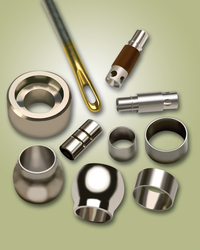 We have also strengthened our analytical capability via centralized test and inspection
San Diego, CA (PRWEB) October 20, 2009
Johnson Matthey Medical's San Diego facility has completed a multi-million dollar expansion in order to integrate the operations of the company's former Temecula, CA facility. Both facilities have been providing high-quality, precision machined components to the medical device industry. In order to streamline operations, promote greater manufacturing efficiency and decrease inter-company transfer of materials, JM San Diego has added 7,000 s.f. of manufacturing space to its existing 34,000 s.f. and integrated all machining operations under one roof. Offices formerly occupying the first floor have been relocated to the second floor to further enlarge the manufacturing area. This additional space not only enables the facility to increase production capacity, but also to increase the size and capabilities of its engineering and development center.
"We have also strengthened our analytical capability via centralized test and inspection," says Brian Woodward, General Manager. "Quality is the primary focus for Johnson Matthey; it is of ultimate importance to the medical device industry and we take it very seriously. We re-certified to the ISO 9001:2008 standard and we continue responding to the medical device supplier guidelines established by the Global Harmonized Task Force. This expansion allows us to continuing meeting our mission which is 'to to provide the Medical Device Industry with the best precision micro-components made from platinum and other specialized materials.' "
In accordance with the company's proactive approach to corporate sustainability, the new expansion will also decrease electricity usage
and waste disposal as well as enable the company to employ three shifts for best use of resources. ISO 14001 certification, an environmental management system intended to reduce the environmental footprint and decrease company waste, is expected to be completed by the end of this year.
Johnson Matthey machines, draws, rolls and forms Platinum, Nitinol and Specialty Metals/Alloys to custom specifications. The company specializes in metallurgical processing, engineering and custom alloy development.
Johnson Matthey is vertically integrated, with medical device manufacturing facilities in both the U.S. and in Europe. Raw materials, precious metal tube and wire manufacturing originate in the company's West Chester, Pennsylvania facility as well as its UK facility. All Nitinol tube, wire, sheet and machined parts are manufactured in the San Jose, CA plant and all micromachining operations take place in San Diego. Johnson Matthey offers global distribution through multi-country sales locations. More information can be attained by visiting the Johnson Matthey website at http://www.jmmedical.com
###