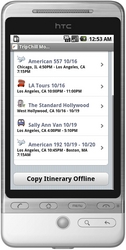 Stratham, NH (PRWEB) October 20, 2009 -
TripChill, a leading mobile service providing automated travel assistance to both business and leisure travelers, now offers a feature-rich web browser experience for all Android smartphones, including but not limited to the new HTC Hero. This unique web interface gives travelers using Android phones the ability to completely manage their TripChill itineraries while on the road. Travelers simply navigate to http://www.tripchill.com from their phone, and they are automatically redirected to the Android specific web interface to create an account and to view and edit their travel itinerary information. Using this powerful interface, the traveler can also configure friends and spouses to receive automatic updates about his or her travel status including flight departures and pending arrivals. This lets the friend get to the airport at the proper time to pick up the traveler, adjust a meeting start time, or to simply stop worrying about the traveler's whereabouts when travel issues arise.
TripChill has also released offline itinerary viewing for both Android and iPhone travelers. This new feature lets the traveler view their itinerary information when the phone is out of range or disconnected (Airplane mode) from their cell service provider, thus keeping the traveler's vital itinerary information at their fingertips at all times.
According to President Alex Shore, "We continue to improve the TripChill Mobile Travel Assistant to make traveling easier for our customers. We are now extending our powerful 'touch' mobile interface to travelers that are using Android smartphones so that they can view and update their itinerary information quickly and easily as changes occur during travel. This new mobile interface leverages the power of the advanced browser capabilities that the HTC Hero and other Android phones have, providing an intuitive touch experience that is simple to use when rushing around an airport terminal. Additionally, TripChill is now offering offline viewing of travel information for both Android and iPhone users. Our customers have asked for this feature so that they can review their upcoming travel information even when they are disconnected from their data service, allowing them to always be prepared for their next course of action during their travels."
About the TripChill Mobile Travel Assistant:
TripChill is a mobile travel service which delivers a personalized experience with targeted information and the ability to quickly take action to resolve problems. TripChill begins monitoring travel itineraries before a trip even starts. The service detects changes in flight and hotel information and proactively alerts the traveler. It provides a situationally-aware mobile interface which tells the traveler the current status of their next flight and exposes mobile access to itinerary details such as phone numbers, confirmation numbers, driving directions, and weather. The TripChill Mobile Travel Assistant delivers smart notifications to the traveler which provides targeted, actionable information when issues arise, such as missed connection warnings, inbound aircraft status, and alternate flight suggestions. TripChill's advanced logic is constantly validating travel itineraries and prompting the user to repair conflicts, such as hotel reservations in two locations for the same night when a traveler is stranded. TripChill works on all mobile devices that have a web browser, and can also communicate on standard cell phones using text messaging. In addition, travelers can book hotel and car reservations over their mobile device at the last minute when traveling while the TripChill Mobile Travel Assistant keeps the traveler's friends and colleagues informed about their travel status as they progress through their itinerary.
###