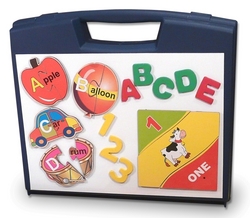 San Diego, CA (PRWEB) October 19, 2009
MagnaPlay LLC, a start-up company developing creative educational activities for children, announced today that its MagnaKase Magnetic Dry Erase Activity Case has been chosen as the Winner of Dr. Toy's 100 Best Products Award and Dr. Toy's 10 Best Creative Products Award for 2009. Dr. Toy's Best Products Award was developed by noted child development authority, Stevanne Auerbach, Ph.D. (a.k.a. Dr. Toy), as a service to consumers to help them select the right products for their children to enhance play and learning. "Let's not forget that play is children's work and should be respected and understood by all adults. We should be thinking: What products or tools for play can we obtain to provide wholesome experiences for children and provide plenty of positive play interactions" says Dr. Toy. Dr. Toy's 100 Best Products are carefully chosen, using extensive criteria she has developed over many years.
"We are honored that the MagnaKase was chosen as a winner of these prestigious awards. MagnaPlay develops creative activities that enable children to learn while having fun, anywhere, anytime. Our educational activities help children work on their fine-motor skills while developing vocabulary skills such as alphabet identification, spelling, word building, and basic math skills including number identification, counting, sorting and solving." says Maya Gowri, President and Founder of MagnaPlay. "Moms who have used the MagnaKase and the MagnaPlay Magnetic Travel Toys agree that they are great educational travel toys for children. It not only keeps children fully engaged during travel but also helps develop their creativity. Moms have mentioned that they have peace of mind and can focus on the road as they are not constantly distracted by their young children." says Maya.
The MagnaKase is a magnetic activity case that can be used with various magnetic and coloring activities. Most children have a short attention span and get bored very soon with their activities. The MagnaKase offers a very significant advantage as it is an open-ended toy when combined with other MagnaPlay activities designed for the MagnaKase. Children can engage themselves in different activities for extended periods of time, especially while on the go. During travel, children can use the MagnaKase Magnetic Dry Erase Activity Case as an activity lapboard while in a car seat, in a flight, in a restaurant or even during a picnic as it is just the right size. Currently there is no other case in the market that can hold various magnetic and coloring activities, and also serve as an activity board during travel. They are great educational travel toys for children.
Drawing and coloring are activities that all children enjoy. However coloring while on the go is not easy as the coloring paper or sheet keeps shifting, and the crayons, color pencils and markers may not be easily accessible. The MagnaKase comes with two Magnet strips that secure children's favorite coloring pages to the activity surface, for coloring with crayons, color pencils or markers while on the go. Coloring pages and markers can be stored in the MagnaKase. The MagnaKase is eco-friendly as "the write-on wipe-off" feature of the case eliminates the use of paper for writing, drawing and coloring. The magnets used in MagnaPlay toys are safe as they are weak flexible magnets. The MagnaKase is a Winner of the Creative Child 2009 Top Toy of the Year Award.
The MagnaKase Magnetic Dry Erase Activity Case can be purchased from Amazon.com for $25 and ships Free with Super Saver Shipping. Check out the huge Holiday sale going on now at the MagnaPlay Online Store. MagnaPlay is hosting a Holiday Contest for Children which will end November 30, 2009.
About MagnaPlay LLC
MagnaPlay strives to educate children and facilitate their creativity with its innovative educational activities. From learning the alphabets and numbers to coloring, word games and puzzles, MagnaPlay offers fun activities for children. MagnaPlay founded in 2008, is a socially responsible company that uses eco-friendly materials and manufactures reusable products. MagnaPlay donates 5% of its profits to a Children's Charitable Organization. MagnaPlay products are assembled in the United States, certified to comply with CPSIA and backed by a 100% Satisfaction Guarantee. For more information, visit MagnaPlay or email mgowri (at) magnaplay.com.
About Dr. Toy
Dr. Toy, Stevanne Auerbach, PhD, has been for many years one of the nations and world's leading experts on play, toys, and children's products. She is the author of 15 books and hundreds of articles on toys and play, and is the only Ph.D. in Child Development evaluating toys and children's products with extensive training and background. With 30 years of direct experience, Dr. Auerbach includes educationally oriented, developmental and skill building products from the best large and small companies in her four annual award programs. Dr. Toy's Guide is available at http://www.drtoy.com.
###