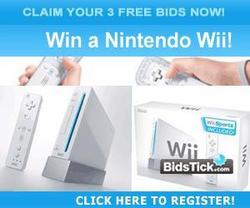 Los Angeles, CA (PRWEB) October 21, 2009
After almost a year of offering users unbelievably deep discounts on various luxury goods, from MacBook Airs to Rolex Watches, Bidstick.com has a couple of figures to celebrate with by giving away 100 free bids to its users while the other more significant amount is the fact that the online auction company is in the final stages of having the Diamond Institute of America secure a $5 Million, private equity financing for them.
The $5 Million equity financing is part of the penny auction site's pivotal strategic alliances, its targeting of merger acquisition targets and formation of joint venture partnerships. This deal will in effect allow Bidstick.com to continue giving every American something to smile about amidst these challenging economic times with more chances of taking home a luxurious piece at steep discounts with a little strategic planning in its online auctions system courtesy of the 100 Free Bids that they have been giving out to their users.
"We know that the financial crisis we are experiencing right now has permanently changed the way Americans think of luxury goods and services by shying away from them so, we thought giving more people the opportunity to get a hold of an authentic Rolex watch or a holiday getaway at steep discounts might be a good idea to keep the economy rolling and the hope of luxury alive to our fellow Americans," the marketing director of Bidstick.com, Keven Moore was quoted.
In these trying times and especially with the holidays fast approaching, the last thing the economy needs are Americans doing nothing to actually stimulate the persistently problematic economy and the great deals that Bidstick.com offers in its penny auction site is a great way of doing your share for the overall economy while having a blast while at it.
###