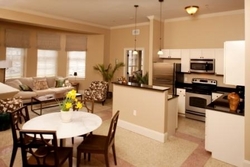 It was an honor to host this year's Oktoberfest Charity Event at the Shops at Chestnut Green
Foxborough, Mass. (Vocus) October 20, 2009
Earlier this month, The Shops at Chestnut Green, a mixed-use residential, commercial and recreational development by VinCo Properties, Inc. located at the former site of Foxboro State Hospital, were host to the Tri-Town Chamber of Commerce's annual Oktoberfest Food Tasting Charity Event. The event, sponsored by VinCo Properties, raised $6,000 for local food pantries in the towns of Foxborough, Norton, and Mansfield.
"This year's Oktoberfest was really a celebration of all of the communities in the Tri-County area. Local restaurant owners were able to showcase their menus in the food tasting while student-musicians from local high schools were able to perform in front of their friends and families," said Kara Griffin, executive director of the Tri-Town Chamber of Commerce. "All of the money that we were able to raise will go directly to helping to improve the lives of others and to make a difference in our communities."
The latest creation of VinCo Properties, Chestnut Green features shops, office space and the Chestnut Green Apartments. The work of VinCo Properties' joint effort with Abrams Properties, LLC, these luxury condo-style apertments are fashioned from a full restoration of Foxboro State Hospital's Victorian architecture.
This year's Oktoberfest showcased a range of premier dining choices from local restaurants and businesses, as members of the community were invited to sample signature culinary dishes from 24 local vendors. More than 500 sampled cuisine from all of their favorite local restaurants and to take advantage of the opportunity to give back to their communities.
With all proceeds going directly to Norton-Cupboard of Kindness, Foxboro-Discretionary Fund, and Mansfield Our Daily Bread, residents showed their support by helping to raise much-needed funds for each of these organizations. Accompanying the dining were talented young musicians from local high school jazz groups, who showcased their skills by providing the music and entertainment for the evening. Massage therapists were also on-site to participate in the event, held at the newly opened Shops at Chestnut Green, an open-air retail center easily accessible to anyone living at Chestnut Green Apartments, themselves the centerpiece of Chestnut Green.
"It was an honor to host this year's Oktoberfest Charity Event at the Shops at Chestnut Green," said Vince O'Neil, president of VinCo Properties. "The night was a success for everyone involved. People had the chance to come together to enjoy an evening of delicious food with family and friends and we are able to raise money that will go directly to helping families in need."
Local establishments who participated in the event included:
Alberto's Pub & Pizza, Norton
Antonia's Deli, Foxboro
Bertuccis, Mansfield
CBS Scene, Foxboro
Casey O'Conor's, Mansfield
Corks Fine Wine & Liquor, Mansfield
Davios Northern Italian Steakhouse, Foxboro
Dream Dinners, Plainville
Edible Arrangements, Foxboro
EPOCH Senior Living, Norton
Fresh Catch, Mansfield
Friendly's Express, Mansfield
Jimmy's Pub & Restaurant, Mansfield
LOCO tapas & wine bar, Easton
Mai Pearl, Chestnut Green, Foxboro
Nature Springs Water Company, Needham
Piccadilly Pub & Restaurant, Foxboro
Pikes Peak Mining Company, Mansfield
Pizza Time, Chestnut Green, Foxboro
Qdoba Mexican Grill, Mansfield & Foxboro
Sunset Catering, Attleboro
Twenty8 Food & Spirits, Renaissance Hotel Foxboro
Tastings Wine Bar & Bistro, Foxboro
Waxy O'Connor's, Chestnut Green Foxboro
About Chestnut Green
Chestnut Green Apartments are a part of Chestnut Green, an adaptive re-use development of the former Foxborough State Hospital site into a mixed-use community consisting of retail, commercial, and residential housing units. A strong team of industry leaders stands behind the Chestnut Green development, located approximately one-half mile north of downtown Foxborough, Mass. This development team is led by master developer Vince O'Neill of VinCo Properties, Inc. VinCo Properties has developed "The Shops" and "The Offices" in partnership with Matthew Abrams of Abrams Properties, LLC developing 15 townhomes - "The Carriage House Flats" - and 55 apartments. On the perimeter of the property, single-family homes are being developed by Michael Intoccia of Intoccia Construction Company and Douglas King of Douglas A. King Builders, Inc. King is also developing 60 town homes. For more information, please visit http://www.chestnutgreen.com.
Members of the news media interested in learning more about Chestnut Green may contact the following individuals:
Lisa A. Nickerson
Nickerson PR
617-848-8193
lisa AT nickersonpme DOT com
###