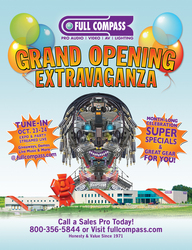 We are thrilled to be back in Madison hosting this once-in-a-lifetime event. It will be a great celebration with wonderful food, exclusive deals, and lots of fun
Madison, WI (PRWEB) October 20, 2009
Full Compass, one of the nation's largest professional audio, video, A/V and lighting equipment retailers is commemorating its move to a new, 140,000 square foot facility in Madison, Wisconsin by hosting a free 2-day Expo and Party on October 23 and 24th from 1 pm until 8 pm CST.
The Expo will feature representatives from dozens of manufacturers, including Digidesign, Shure, Sennheiser, Audio Technica, JBL, Sony, JVC, Yamaha, JBL and Bose. Attendees will be treated to food, live music and contests throughout the Expo, and will be able to spin a Prize Wheel featuring thousands of dollars in giveaways.
Among the musical performances will be clinicians from Yamaha, as well as popular Madison bands Super Tuesday and Soul Shaker.
The Expo will also be streamed live via webcast. Viewers will be able to watch manufacturer demos, live musical performances and learn about the special deals available to them only during the Expo.
"We are thrilled to be back in Madison hosting this once-in-a-lifetime event. It will be a great celebration with wonderful food, exclusive deals, and lots of fun " said Susan Lipp, Chairman of Full Compass.
CEO Jonathan Lipp, said "This is the first time that Full Compass has utilized live streaming technology. We are delighted to be able to share this special event with all of our business partners, customers and friends who will not be able to attend the Expo in person."
The official web page is Full Compass Grand Opening
###