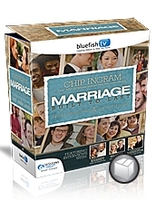 Our church has used Chip's materials in our group Bible studies and found them to be high on Biblical insights and yet relevant to everyday life
Richardson, TX (PRWEB) October 26, 2009
Money, in-laws, sex, arguments… Every couple desires a loving, lasting marriage but so many issues stand in the way. According to Barna Research Group, among Americans who have said their wedding vows, one out of three have been divorced at least once. Barna notes that Americans have grown comfortable with divorce as a natural part of life.
Bluefish TV is concerned for the state of marriages across the country. That's why they have created the adult small group Bible study, Marriage: Built to Last (Living Intentionally. Loving Biblically), that addresses the common struggles that hinder oneness and intimacy among couples.
Pastor Chip Ingram of Living on the Edge Radio program provides the Biblical teaching for Marriage: Built to Last. Genuine and passionate, Chip outlines God's design for marriage by teaching on the biblical principles found in God's word. It is when a husband and wife seek to follow God's perfect plan, that their marriage has the ability to stand the test of time.
"Our church has used Chip's materials in our group Bible studies and found them to be high on Biblical insights and yet relevant to everyday life," said Dave Stone, Senior Pastor of Southeast Christian Church. "His passion for the Word and personal warmth comes through loud and clear."
In Marriage: Built to Last, financial expert Dave Ramsey and his wife, Sharon, share their story of recovering from financial stress and hardship. Super Bowl MVP Kurt Warner and his wife, Brenda, share their story about trust issues and adjusting to a blended family.
Throughout each video, 24 real life couples share candidly about their struggles with finances, sexual intimacy, expectations, communication, past baggage, pornography and more. Chip Ingram provides biblical insight into the following topics for couples to discuss in their small group Bible study:
1. Adjusting to Expectations
2. Learning to Communicate Clearly
3. Breaking Down Walls
4. Resolving Conflict
5. Restoring Sex and Intimacy
6. Striving for a Christ-Centered Marriage
"Marriage: Built to Last is outstanding quality and professionalism. This work has far outpaced that which has gone before. I am looking forward to sharing this with the married couples in my next marriage class," said Dr. Chris King of Evergreen Baptist Church.
Bluefish TV is hopeful that small group leaders and Bible study leaders across the country will play this video-driven Bible study, go through the leader's guides and handouts, and will begin to see life-changing discussion happen that will help put couples on the road to restoring their relationship, rather than becoming another statistic.
"What I love about this series is that it starts with felt needs like communication and conflict and ends with a strong challenge for every couple to work toward a healthy marriage--not just so that life is better--but so that as a couple they can make an impact for Christ to those around them," said Brian Mosley, EVP of Product Development.
Marriage: Built to Last is available at Bluefishtv.com along with other marriage, parenting, young adult, and youth Bible study resources that include teaching from Drs. Les and Leslie Parrot, Dr. Kevin Leman, Sean McDowell, David Nasser, Donald Miller, Mark Batterson, Erwin McManus, and more.
About Bluefish TV:
Bluefish TV is a non-profit Christian video ministry that has produced video sermon illustrations and small group Bible study resources for youth groups and pastors for over 25 years. Bluefish TV has worked with Christian leaders including Erwin McManus, Louie Giglio, Donald Miller, Todd Phillips, Margaret Feinberg, Beth Moore, Doug Fields, Drs. Les and Leslie Parrott, Mercy Me, Chris Tomlin, David Crowder and Jars of Clay to produce relevant resources for 93,000 churches across the country. Bluefish TV also has a passion and commitment to world missions and has participated in projects around the world to tell missionaries' stories of faith and sacrifice.
You can view full video previews and purchase each small group study and video illustration at http://www.bluefishtv.com. Some Bluefish TV resources can also be found in stores and on the websites of their ministry partners: LifeWay, Cokesbury, Mardels, Family Christian and Simply Youth Ministries.
Contact:
Samantha Krieger
Writer/Content Editor
Bluefish TV
972.560.5600
http://www.bluefishtv.com
Samantha (at) Bluefishtv (dot) com
# # #