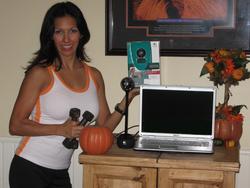 The point of this was to allow people who couldn't afford the services of a personal trainer, or a gym membership, the opportunity to do both over the internet.
Dallas, TX (Vocus) October 20, 2009
With the economy still in a state of flux, one's workout regimen doesn't have to be with the real-time video streaming workouts offered by the staff of trainwithjean.com. This unique concept of training people over the internet is the creation of Jean Lawson. "The point of this was to allow people who couldn't afford the services of a personal trainer, or a gym membership, the opportunity to do both over the internet." The site also offers bilingual on-line training to Spanish speaking people, as well.
Trainwithjean.com is offering real-time video steaming workouts over the internet. A person just has to email Jean, and they will email you an invitation to their virtual gym. All one needs is a web camera and internet access to engage an on-line personal training session. Each 30 minute session is $15. This also includes, for a limited time, sessions as low as $10 if you purchase more than one.
Holiday feasts can also create havoc when people are trying to loose that weight in January. Over-crowed gyms and locker-rooms are never an issue with trainwithjean.com "You don't have to worry whether or not the equipment is clean or waiting for a machine," said Jean, "that is the beauty of training on-line." Lawson's concept of this virtual gym also stemmed from years of working in corporate gyms. Lawson and her team who have worked for various fitness chains have realized that the concept of the "big gym" has gotten too big.
Diana Guerrero, on-line personal trainer, mentions the ease and convenience of training on-line. "I have several clients that will log-on and train with me before they drive home. This way they get their workout over with, miss rush hour traffic and don't have to drive to a gym." She also explains that this allows a person to unwind before they go home, and helps reduce stress.
Corbin Lawson, on-line personal trainer, has been a trainer for 17 years and was voted by Men's Journal Magazine: 100 Top Trainers in America says, "When you pit your employees against each other just to hit your monthly budget then what is the foundation or vision of the company. As a result of these "big business" tactics, you will always loose your best trainers." Mr. Lawson also points out that since there is no competition among the on-line training staff, they can focus on their clients and not the budget of the corporation.
Carlos Garcia, on-line personal trainer, states that the session rates are very affordable to all. "Let's face it, there are 168 hours in a week and if you train only 1 or 2 times a week that isn't that effective if you look at the big picture. With the rates being so low, a person can train 4-5 times per week with us," says Garcia. He also points out that on-line training can be for anyone's level of fitness, from the novice to the athletic client.
The one piece of equipment that is necessary to train on-line is a web camera. Most are in the price range of $20-$70. The client will also be instructed to download the latest version of Java which is free. If a person has exercise equipment at home they will also be instructed to use it during a session, but that is on a case by case basis.
Since there are no overhead expenses when training on-line, there is no need to demand extreme price-points from clients. "People have to cut corners these days especially before the holidays, now they don't have to when they can afford an $85/hour trainer for $15."
###