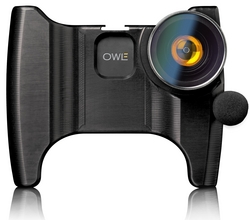 The iphone is arguably the most well connected camera on the planet, paired with an OWLE Bubo that becomes indisputable
Scottsdale, AZ (PRWEB) October 20, 2009
Optical Widgets for Life Enhancement (OWLE), the company that first debuted it's prototype in July 2009, is proud to announce that they are bringing the OWLE Bubo to market. The Bubo is a full iPhone video platform that allows anyone to hook up their regular, every day camcorder equipment, and let their iPhone do the rest of the work.
"The whole point of camera is to capture and share moments and experiences and the point of a cell phone is to connect those people instantly" said OWLE Co-Founder and CEO, Harold Smith. "The iphone is arguably the most well connected camera on the planet, paired with an OWLE Bubo that becomes indisputable"
The Bubo will go on sale for pre-orders on Tuesday October 27th, for $99.95 USD as an introductory price, and $129.95 MSRP after the initial launch. The OWLE Bubo's unibody design includes in integrated flash "coldshoe", four tripod mounts and standard 37mm lens threading. Included with the OWLE Bubo will be a 37mm .45X wide angle lens, a high quality Vericorder boom microphone, and a silicon iPhone case.
In August 2009, Team OWLE went to Sunnyvale, Calif. to iPhoneDevCamp 3 to present the OWLE Bubo protoype. The Bubo won the top award, presented by Kleiner Perkins Caufield & Byers and their iFund program.
About OWLE
OWLE was started in 2009 by Harold Smith and Graham Mcbain in Scottsdale, Arizona with the idea that the iPhone is the next generation of mobile video. When the iPhone 3GS was announced by Apple on June 8th, OWLE was quick to respond with their prototype. On August 2nd 2009 OWLE won the "Most Promising Startup" award presented by iFund at iPhoneDevCamp 3 in Sunnyvale, in front of a record, 400 person crowd. You can find more information at http://www.wantowle.com
Press Contacts
Harold Smith
CEO/Co-Founder
harold(at)wantowle.com
Graham Mcbain
COO/Co-Founder
graham(at)wantowle.com
###