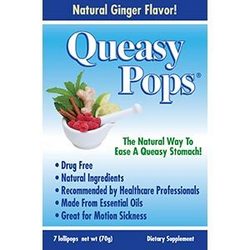 Vista, CA (Vocus) October 20, 2009
Three Lollies is taking a stand against tummy troubles with their diverse lineup of nausea quelling products.
As health care professionals, the team behind Queasy Pops are dedicated to helping people in need. Knowing that not all medications effect everyone the same way, they decided to find an alternative approach to nausea medications. After much research and consulting with other doctors and patients, they created an all natural recipe strong enough to tame a troublesome stomach.
Every queasy pop product is made with all natural ingredients including brown rice syrup and evaporated cane juice. So not only can you feel good about eating them, but they're delicious too. Since they're all natural there are no potential side effects as is the case with artificial remedies. With the right combination of aromas and flavors from essential oils and natural herbs, nausea can be kept at bay and people can get on with their lives.
Their line of Queasy products includes: Queasy Pops, Preggie Pops, Queasy Drops, Queasy Pop Kids, and Queasy Pink.
Queasy pops come in ginger, sour raspberry, sour lemon, green tea, peppermint, and cinnamon flavors. Each flavor has been selected for its ability to calm and soothe the body and has been painstakingly created to offer a delicious rather than medicinal taste.
Queasy Drops are a smaller lozenge form of their tried and true Queasy Pop recipe that is for easy and discreet tummy taming. There are a variety of flavors such as natural pomegranate, cola, and banana as well as organic and sugar free alternatives.
Queasy Pop Kids are a great way to get children to take care of their tummies without having to give them any kind of over the counter medication. Queasy Pop Kids come in many kid appealing flavors such as peppermint, cinnamon, natural cola, natural sour flavors, and papaya. Their candy form also makes kids comfortable with taking them.
Queasy Pink were created in an effort to help the fight against breast cancer. They come in a sour raspberry flavor which works as a deterrent to upset stomachs and as an appetite stimulant, helping women going through chemotherapy with their bouts of nausea. A percentage of each sale will support the 'Stop Cancer' Marni Fund for breast cancer research.
Three Lollies products have been featured in numerous publications such as Pregnancy, Better Homes, Health and Fitness, and Men's Journal to name a few. They also support a number of charities including the National Children's Cancer Society.
For samples or additional information, please contact media (at) chicexecs.com.
ChicExecs PR
1487 Poinsettia Ave Ste 125
Vista, CA 92081
760.992.9113
About ChicBlvd Inc:
ChicBlvd Inc, a women-owned multi-media company located in San Diego , CA which began in 2004, includes three divisions--an online magazine: ChicBlvd at http://www. ChicBlvd.com, product development division: chicBuds Designer Electronics at http://www.chicbuds.com and a Public Relations firm: ChicExecs PR at http://www.chicexecs.com servicing over 80 Clients. Sign up for Client updates at http://www.ChicExecsMedia.com.
###