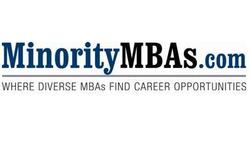 The group of applicants we reviewed was outstanding
Norfolk, VA (PRWEB) October 20, 2009
MinorityMBAs.com, an online career community connecting high-performing minority MBA professionals to hiring managers committed to diversity recruiting, congratulates the winners of its Fall 2009 Scholarship Program. The 2009 MinorityMBAs.com Scholars are:
Jamaal Brown, The University of Pennsylvania's Wharton School of Business
Edwindra Crocker, Northwestern University's Kellogg School of Business
Hector Leano, The University of Chicago's Booth School of Business
Kevin Martin, The University of Virginia's Darden School of Business
Marques Zak, Cornell University's Johnson School of Business
Each of these outstanding individuals will receive a $2,000 award. In order to be eligible for the scholarships, candidates were required to be in the second year of graduate study, complete an online application and submit a letter of recommendation, among other criteria.
The scholarships recognize high performing minority MBA students with the potential for exceptional business careers, explains founder and CEO Owen Griffin. "We are delighted to highlight these extraordinary individuals for prospective employers. Each of the winners has strong academic and professional backgrounds."
"The group of applicants we reviewed was outstanding," agrees Portia Kibble Smith, Director of Executive Recruiting for MinorityMBAs.com. "These students will be competitive for the very best jobs in their fields. It is exciting to support the education of such top talent."
MinorityMBAs.com intends to offer the award annually and extend the program's reach through corporate sponsorship. In future years, MinorityMBAs.com will work to include interviews with senior executives from top companies in addition to the cash award.
About MinorityMBAs.com
MinorityMBAs.com is the leading online career community for top tier diversity job candidates. Beyond its database of MBA level jobs, MinorityMBAs.com performs candidate screening and placement services for diversity friendly corporations, governments and non-profits. Its tools for job seekers include job alerts, online job applications, employer profiles and career coaching services. Based in Norfolk, Virginia, MinorityMBAs.com serves over 1,800 MBA job seekers representing a wide range of professional backgrounds, industries and minority groups. In 2009, it instituted an annual scholarship program to reward the efforts of talented minority MBA students. For more information, visit MinorityMBAs.
This press release was distributed through PR Web by Human Resources Marketer (HR Marketer: http://www.HRmarketer.com) on behalf of the company listed above.
###