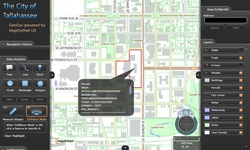 try it before you buy it
Tallahassee, FL (Vocus) October 20, 2009
ISC is pleased to announce the Dump Your Clunker program that gives government agencies a chance to get rid of clunky Web 1.0 mapping applications by switching to the new standard in rich interactive mapping, MapDotNet UX. ISC is offering a 365-day "try it before you buy it" license that includes MapDotNet UX and the GeoGov application.
Through the Dump You Clunker program, ISC will furnish government organizations with fully functional unlimited use licenses for internal and external MapDotNet applications for one year. Also included in the program is a starter application called GeoGov. GeoGov is a Silverlight 3.0 application that is configurable and requires no programming. Features of GeoGov include, spatial querying, address and owner search, printing, and map sharing. The GeoGov application can utilize an organization's street and aerial data or any of the popular consumer map services. The GeoGov solution is valued at $5,000 (US).
At the end of the one year period, if the government organization is pleased with the switch to new a Web 2.0 mapping system, it can simply purchase the MapDotNet licenses at the standard published GSA rates.
"We know that budgets are tight for governments across the country right now. By offering our version of the Cash for Clunkers program, we hope to help city and county GIS departments move to the next generation of spatial data dissemination to the public. By embracing new technologies and new ways of thinking about GIS application development, governments and citizens benefit. We encourage any government agency that has thought about an enhancement to their current mapping system to enroll and try MapDotNet UX at no obligation; we guarantee positive feedback from your internal employees and your citizens," said Brian Hearn, MapDotNet UX Architect.
To see a live demo of the GeoGov application, please visit: http://demo.mapdotnet.com/geogov/
For more information on the Dump Your Clunker program, please visit: http://www.mapdotnet.com/Pages3.0/products-services/dumpyourclunker.aspx
Founded in 1989, ISC is a worldwide leader in software that combines today's latest advances in web-based, consumer mapping with powerful enterprise GIS (geographic information systems). The company offers a wide range of products and services designed to empower people through great geospatial software.
###