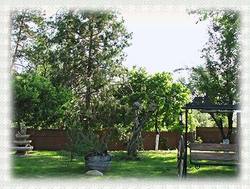 We get honeymooners and anniversary couples, and it's all because of that privacy we have to offer
Oakhurst, CA (Vocus) October 21, 2009 -–
Local bed and breakfast owners Mike and Jody Telegan are celebrating the news that their property, A Haven of Rest Bed and Breakfast, has received the prestigious Best of the West award from BedandBreakfast.com.
"We were just totally elated and felt so honored," said Jody, explaining how her and her husband felt upon receiving the news. "For one thing we love our guests, and then to receive an award because of what they had to say about us, we were just astounded," she said.
The awards were decided based on over 100,000 guest reviews submitted to the BedandBreakfast.com website. Of all the B&Bs throughout Washington, Oregon and California, only ten were honored in those three states, four of them being in California, including A Haven of Rest.
Jody said while their property's small size made the award a surprise, she actually believes that's what makes A Haven of Rest so popular with guests. "We're very small, the smallest in Oakhurst. We have a two room suite that's very private and that's what attracts our guests," she said. "We get honeymooners and anniversary couples, and it's all because of that privacy we have to offer," she said.
The B&B's private back yard complete with swim-spa, barbecue and park like setting as well as views of the surrounding mountains, has garnered the Telegan's exceptional repeat business. "It's a lovely setting, it truly is," said Jody.
With this accolade, Jody said some are asking her if she plans to expand now. The Telegan's however, plan to continue to do business the way they have been. "Some are saying we need to add on. But we say that if we did, we wouldn't be as attractive as we are. It's that privacy so they can get their rest and relaxation that makes us unique," she said.
http://www.yosemitethisyear.com; http://www.facebook.com/yosemitesierra, http://www.havenofrestbnb.com
###