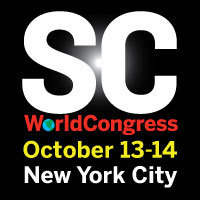 Overall the show was very positive for Stonesoft
New York, NY (PRWEB) October 20, 2009
The second annual SC World Congress Conference and Expo, the East Coast's largest security event, concluded activities by announcing the winners of its inaugural Security Innovators Throwdown, showcasing young companies, new technologies and ground-breaking services likely to impact the future information security landscape.
"Everything about this year's event exceeded our own high expectations," said Illena Armstrong, editor-in-chief, SC Magazine. "From the keynotes by IT security leaders - to the breakout sessions delving into the biggest security issues, trends and challenges of today. I thank everyone who participated, our sponsors and the presenters for helping to make the 2009 SC World Congress an unmitigated success."

"SC World Congress was great for putting Proofpoint in touch with qualified buyers who were actively looking for email security and email compliance solutions," said Tracie Bonuccelli, senior marketing programs manager, Proofpoint, Inc. "We had solid conversations with a variety of organizations for which Proofpoint would be the ideal fit."
"The traffic was great and the quality of attendees we met was excellent," said Andrea Ohrbeck, vice president, business and sales development, Secunia. "We are looking forward to the event again next year."
"SC World Congress allowed us to meet face to face with the major accounts we have been targeting," said Christina Dodds, marketing events manager, Sophos. "The high quality attendees made this event a worthwhile investment."
"We were very pleased with the caliber of attendees," said Alan Shimel, chief strategy officer, StillSecure. "We made several great contacts and found some promising potential projects."
"Overall the show was very positive for Stonesoft," Laurie Douglas, Stonesoft vice president of marketing, Americas. "We walked away with some strong leads for potential immediate business. We also had a great location and the event was very well organized."
Close to 1,000 security professionals attended the two-day event to witness unique presentations and keynotes from luminaries across the security industry. Those interested in participating or attending next year's event may contact Mike Alessie at Mike.Alessie@haymarketmedia.com.
At the inaugural Innovators Throwdown, after presentations to a distinguished panel of experts, based on their vision and demonstrated ability to express the viabilities of their technologies, the following companies were declared the top five Innovators within the industry:

Hytrust
Yubico
Envision
SMS Passcode
SilverTail
"The competition presented the perfect stage for our first public appearance," said Jared Pfost, CEO, Envision Security. "The competition not only provided us visibility, but we're already applying insight gained from the judging panel to evolve our offering."
"The Security Innovators Throwdown was a fun, spirited and challenging event for showcasing developing technologies in our field," said Lars Barthold Nielsen, vice president, commercial operations, SMS Passcode. "SC Magazine is the authority within our industry and we are very honored and excited to have proven to the selection committee the viability of our two-factor SMS authentication technology through the Security Innovators Throwdown."
The top five innovators selected during the Security Innovators Throwdown will be featured in a special section of SC Magazine that will discuss the evolution of the information security market.
"I want to congratulate the winners of the Security Innovators Throwdown, as well as all those that participated and made this unique event a success" said Armstrong. "These companies will surely continue to drive the growth and development of the information security industry, and foster new ways of addressing emerging challenges."
About SC Magazine
SC Magazine provides IT security professionals with in-depth and unbiased information through timely news, comprehensive analysis, cutting-edge features, contributions from thought leaders and the best, most extensive collection of product reviews in the business. By offering a consolidated view of IT security through independent product tests and well-researched editorial content that provides the contextual backdrop for how these IT security tools will address larger demands put on businesses today, SC Magazine enables IT security pros to make the right security decisions for their companies. In addition to the monthly print magazine and the daily website, http://www.scmagazineus.com, the brand's portfolio includes the SC World Conference and Expo, SC Magazine Awards, SC Directory, SC Magazine Newswire and SC Magazine IT Security Executives Forum.
Contacts:
SC World Congress
Mike Alessie
Mike.Alessie(at)haymarketmedia.com
Innovators Throwdown:
Eric Green
program director, SC World Congress
callforpapers(at)haymarketmedia.com
Media:
Matthew Mors
matthew(at)yourtechpr.com
206-992-7518
###