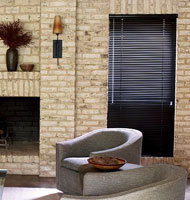 Premium Aluminum Mini Blinds – The small 1/2
Gilbert, AZ (Vocus) October 23, 2009
Select Blinds today announced the introduction of its newest eco-friendly product, the 1" Select Dynasty Aluminum Mini Blind. Made from 80% recycled aluminum, these exceptionally strong 1" slats are 8 gauge aluminum, versus the average 6 gauge slats found in most aluminum mini blinds. In addition to being durable and attractive, the 1" Select Dynasty Aluminum Mini Blind comes standard with an upgraded two slat valance for a more finished look than the standard single slat valance.
Offered in a dozen designer colors, each slat is signature pre-coated, to provide an anti-static mini blind that is ideal for commercial applications such as office buildings, apartment buildings, and schools. These 1" mini blinds are a great value, making them the perfect value priced solution for spare rooms and kids rooms.
The Select Dynasty 1" Mini Blind rounds out the mini blind selection offered at http://www.selectblinds.com.

1" Premium Aluminum Mini Blinds – This is the most popular mini blind currently offered, and 12 of the 25 color options match the 12 color choices of the Select Dynasty Mini Blinds.
1" Select Levelor Mini Blinds – Made from 90% recycled aluminum, this Levelor product is made exclusively for SelectBlinds, and is considered to be the strongest, most durable Levelor mini blind on the market.
1/2" Premium Aluminum Mini Blinds – The small 1/2" slats make the mini blinds ideal for doors and for windows with a very shallow sill.
2" Premium Aluminum Mini Blinds – The 2" slat gives a more traditional horizontal window blind look.
All of the Select Blinds mini blinds include free shipping, and for a limited time, Select Blinds is offering free 1 day production on both the 1/2" and 1" Premium Aluminum Mini Blinds!
About Select Shops, owner of Select Blinds
Headquartered in Gilbert, AZ, Select Shops owns the leading online destinations for ready-to-install and custom-made home fashions, including SelectBlinds.com, SelectRugs.com, SelectFans.com and SelectBedding.com. SelectBlinds.com is focused on providing a tremendous variety of blinds, shades and other windows treatments to its customers. All of Select Shops Web sites offer competitive pricing, security and convenience online shopping, live assistance, customer satisfaction guarantees and strong warranty programs on all of its products.
###