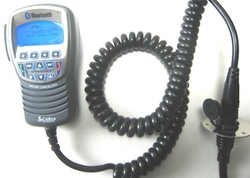 Hey Honey, what's for dinner? … over.
Tampa, FL (Vocus) October 20, 2009 –-
Recently, Marinemart Boating Accessories announced brilliant ways to amplify mobile phone coverage by miles and miles when afloat. Due to the overwhelming customer reaction and follow-on questions, Marinemart.com is now highlighting the Cobra F300 BT Waterproof Bluetooth® Handset. This clever device allows cell phones to be kept safely below deck while still maintaining the ability to make calls above deck, all without ever having to touch the actual phone.
Since mobile phones are quickly becoming the main communication device for most boaters, why not combine the convenience and capabilities of a cell phone with the expediency and waterproof characteristics of a normal marine radio? Not surprisingly, Marinemart has the technology which does exactly that.
One may think the Cobra F300 BT Waterproof Bluetooth® Handset sounds like something only a Navy SEAL could access. Or, perhaps a few folks think the Cobra F300 is just a fictitious device in the future movie, 'Snakes on a Boat'. No sir. The Cobra F300 is real, undeniably useful, and available now for only $157.
The Cobra F300 from Marinemart is easy to wire into a 12v source and powers up or down with a switch or the ignition. The link with Bluetooth® occurs automatically at power-up. Phone calls are heard through the powerful speaker. All standard cell phone amenities apply such as Caller ID, contact lists, call logs, ring tones, one touch answering and easy redial.
So hurry on over to Marinemart Boating Supplies to get your mobile phone coverage amplifier, and the practical Cobra F300 Handset with a unique noise-canceling design, in order to use a phone on the water while never exposing it to water. Besides saving cell phones from 'death by spray', plus also increasing boating safety by having a versatile communication device handy, get a kick out of saying, "Hey Honey, what's for dinner? … over."
Marinemart originated from the heart and soul of boating enthusiasts in mid 2009. Based out of Tampa, Florida, and with the support of an international technology company, Marinemart.com seeks a new standard as an on-line marketplace. The excitement is viral once people get to know Marinemart. Introducing brand new items to America, like the amazing new Waterbuoy, is a perfect example. The Marinemart experience simply offers higher value at a price comparable to traditional boat supply outlets. Don't spend hours surfing the web for an item offered by some fly-by-night vendor. Log on and be part of the most expansive boating supplies venue. Relax, it's Marinemart.
For more information about the amazing new Waterbuoy or MarineMart, LLC, visit http://www.marinemart.com.
###