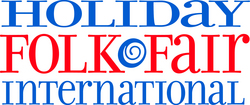 Celebrate the Weavings of Culture
Milwaukee, WI (Vocus) October 22, 2009
The 66th annual Holiday Folk Fair International, America's premiere multi-cultural festival, will be held Fri., Nov. 20 – Sun., Nov. 22, 2009, at the Wisconsin Exposition Center at State Fair Park in West Allis, Wis.
Produced by the International Institute of Wisconsin, the event will provide attendees with an opportunity to "Celebrate the Weavings of Culture," this year's show theme. In addition, the event will recognize the International Year of Astronomy and the International Year of Natural Fibers.
The three-day event features an assortment of ethnic foods, music and dance performances, ethnic cultural displays, arts and crafts displays, and educational exhibits and demonstrations. Holiday Folk Fair International will host a United States Citizenship Naturalization Ceremony Sat., Nov. 21, at 10:30 a.m. and the eighth annual Around The World 5K Run/Walk Sun., Nov. 22, at 9 a.m.
New in 2009 will be a photo portrait display of the sky titled "The World at Night" a photo display recognizing the 35th Anniversary of the Resettlement of Refugees in Wisconsin, and a Peace Corps exhibit chronicling the 33-month stay of a Peace Corps volunteer through letters and photos.
The three-day event also features the All Nations Theater, with traditional music and dance by a variety of ethnic groups, with a Mexican dance group from Chicago serving as the stage's featured attraction. The World Cafe will have traditional food dishes, the International Stage will have ethnic dances performed by young people, and the Music Pavilion offers a variety of music styles, including Darren Thompson, a Native American flutist.
Heritage Lane will offer unique traditions and customs through interactive exhibits, and the International Bazaar has cultural artifacts that create a unique shopping experience.
Hours on Fri., Nov. 20, are 2 p.m. – 10 p.m.; Sat., Nov. 21, 10 a.m. – 10 p.m.; and Sun., Nov. 22, 10 a.m. – 7 p.m. Admission is $8 in advance, and $10 at the door. Military personnel (with military ID) and children 5 and younger are admitted at no charge, with tickets for children ages 6-12 and seniors 62 and older $8 at the gate. A "Family Fun 4-Pack" of tickets for $28 is available at the International Institute of Wisconsin office and online at folkfair.org.
Advance tickets for $8 are available through more than 50 Pick 'n Save stores in southeastern Wisconsin and other select retail outlets. The complete list of advance ticket locations is available at folkfair.org.
For more information on the 2008 Holiday Folk Fair International, call the International Institute of Wisconsin at 414-225-6225 or visit folkfair.org.
###