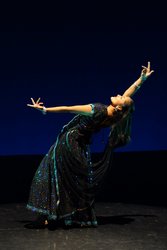 BOLLYB!END 2: A Night at the Bollywood Awards
Washington (PRWEB) October 23, 2009
Dhoonya Dance Performance Company (DDPC), the area's premiere contemporary South Asian dance troupe, is proud to announce its second annual show "BOLLYB!END 2: A Night at the Bollywood Awards," which, through dance, celebrates the glitz and glamour of India's most popular film genre.
BOLLYB!END 2 will feature classic Bollywood pieces along with fusion numbers that incorporate hip hop, bellydance, lyrical, and other popular dance genres.
The theme for this year's BOLLYB!END builds around the Bollywood Filmfare Awards, which is roughly India's equivalent to the Oscars. The event dazzles all with sensational fashion creations, elaborate sets, and captivating performances that Dhoonya Dance will replicate through this dance showcase.
DDPC, along with special guest performers and artists, will present BOLLYB!END 2 on Saturday, Nov. 7 at 8 p.m. at the brand new Montgomery College Takoma Park/Silver Spring Performing Arts Center, 7995 Georgia Ave., Silver Spring, Md., 20910.
Tickets are $20 in advance or $30 at the door. Dress attire is formal.
About the Dhoonya Dance Performance Company.
The Dhoonya Dance Performance Company (DDPC) is a co-ed dance troupe comprised of the Washington.-area's most elite and talented South Asian dancers. DDPC has performed at numerous festivals and events, including the National Cherry Blossom Festival, the Asia Heritage Festival, and Washington Metropolitan Opera's MidWinter Gala. DDPC also created special choreography to the hit "Basement Bhangra" in front of DJ Rekha herself, as well as celebrity guests Bono, Ashley Judd, and Padma Lakshmi at the 2007 YouthAids Gala. http://www.dhoonyadance.com
###