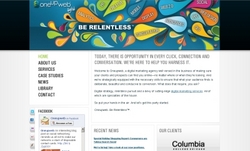 We've been winning awards for the creative, unique, edgy online marketing that we were doing for ourselves, and over the years we've been providing these services to clients upon request
Traverse City, MI (PRWEB) October 21, 2009
Bob Dylan sang The Times They Are A-Changing when the need for individuals to be relentless in their beliefs was perhaps at an all-time high. Far removed from the social and political upheaval that characterized the 1960's, one can't help but wonder if Oneupweb CEO and Founder Lisa Wehr is a Bob Dylan fan.
"We're living in an evolutionary time," says Wehr. "Like the crazy marketers we are, we think it's an exciting time full of new chances to differentiate your brand and relate to your customers in fun, effective ways. It's time to be relentless."
And to help their clients do just that the digital marketing leader has expanded their list of services to include: extensive social media marketing capabilities, creative services, website design, mobile marketing, digital pr, display advertising, audio/video/podcasting, analytics, web 2.0 technology, and research, training and consultation.
"We've been winning awards for the creative, unique, edgy online marketing that we were doing for ourselves, and over the years we've been providing these services to clients upon request," explains Wehr. "We decided that now was the time to offer these services to all mid-level clients and companies."
And when you add these expanded offerings to Oneupweb's search marketing backbone, you get a full-service digital marketing powerhouse that has brought home national awards including ADDYs®, a Telly and a Business Marketing Association Silver Sledgehammer, among others.
"We like to say it's big agency work and big agency results, without the big agency price tag," she laughs. "Twitter, Facebook, iPhone apps, widgets and more are turning conventional methods on their ears, and mid-level companies need to partner with a digital marketing provider who gets it, and can handle all of their online marketing needs."
According to Wehr, that company is Oneupweb.
Oneupweb has launched a new website that further highlights their capabilities. Check it out at OneUpWeb.com.
About Oneupweb
Oneupweb has been an innovator in digital marketing for more than a decade, creating integrated online marketing plans that incorporate natural search engine optimization (SEO), paid search marketing (PPC), social media marketing, digital pr, display advertising, analytics, creative services, mobile marketing, website design, web 2.0 technology, audio/video/podcasting, and research, training and consultation. Heralded by an independent research firm for their leadership team, Midwestern work ethic and solid experience in optimizing complicated sites, Oneupweb has been named a Top 20 Search Marketing Agency by Advertising Age for three consecutive years, and CEO Lisa Wehr is recognized as an Ernst & Young Entrepreneur of the Year. The company publishes an award-winning blog entitled StraightUpSearch. Oneupweb is a privately held company located in Traverse City, Michigan. For more information on Oneupweb, please call 231.922.9977, visit OneUpWeb.com or follow them on Twitter @Oneupweb and @LisaWehr.
###