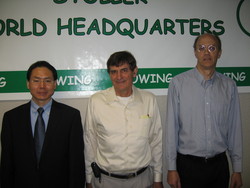 Our mission is to empower plants so the grower can get the very most out of his seed investment
Houston, Texas (PRWEB) October 21, 2009
StollerUSA is proud to announce the addition of Dr. Ze-Chun Yuan, Chief Microbiologist, to the StollerUSA R&D department. Dr. Yuan joins Dr. Ron Salzman, Director of the Bioscience division of StollerUSA and Dr. Albert Liptay, Stoller's Director of R&D to form the high-powered team of researchers that will guide the company's new product innovations.
Stoller's commitment to providing new solutions to growers' challenges is the driving force behind the company's continued investment in R&D personnel and university research. With a focus on enhancing plant potential by maintaining plant hormones at optimal levels under all conditions, Stoller's efforts have provided growers with most advanced and cost-effective solutions to crop stress.
"Our mission is to empower plants so the grower can get the very most out of his seed investment," explains CEO and Founder Jerry Stoller. "We pride ourselves in thinking outside of the box to provide real, cost-effective, easy-to-apply solutions to the farmer. This kind of innovation doesn't just happen. We dedicate substantial resources and are committed to continued innovation."
Dr. Ze-Chun Yaun's knowledge and expertise in how microorganisms enhance plant performance will expand Stoller's focus on unleashing the power of plants by developing synergistic opportunities within the bacterium spectrum. Dr. Zechun Yuan's main focus is to study the molecular mechanisms by which plant-associated microorganisms--especially bacteria--outcompete pathogens; promote plant growth, nutrient uptakes, productivity and resistance to biotic and abiotic stresses.
Besides their primary responsibilities at StollerUSA, both Dr. Salzman and Dr. Ze-Chun Yaun are visiting scientists at Texas A & M University in the Department of Entomology and Department of Soil and Crop Sciences, respectively.
As StollerUSA continues to build upon research in plant performance, they will be present at the California Association of Pest Control Advisers Conference on October 25-27, 2009. Golden State growers are encouraged to stop by booth #214 and learn about the cost-effective products they need to maximize crop yields and increase profits.
StollerUSA is dedicated to helping producers enhance their crops by maximizing genetic expression. The result is in enhanced marketable yield, resistance to insects, nematodes, and disease, while maximizing the return on investment. Stoller products are proven to ensure optimum plant growth by maintaining appropriate hormone balance in combination with supporting nutrients, resulting in healthier, more productive crops that are better able to withstand stress and achieve their full genetic potential.
In agribusiness for more than 40 years, StollerUSA markets a full line of products to help farmers increase crop yield and quality. StollerUSA, headquartered in Houston, is actively researching and developing plant performance products in more than 50 countries. For more information on StollerUSA, visit http://www.StollerUSA.com.
###