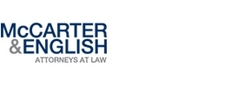 Being elected a member of ALI is a distinct professional honor
Philadelphia, PA (PRWEB) October 22, 2009
Peter J. Boyer, a partner in the Philadelphia office of McCarter & English, LLP, has been elected to membership in the American Law Institute(ALI or The Institute) and was one of only three elected in the state of Pennsylvania. ALI is the leading independent organization in the United States producing scholarly work to clarify, modernize and otherwise improve the law. The Institute is made up of approximately 4,200 lawyers, judges and law professors. Its work includes publication and periodic revision of the Restatements of the Law and model statutes, as well as continuing legal education programs through the activities of the American Law Institute-American Bar Association Continuing Professional Education (ALI-ABA).
"Being elected a member of ALI is a distinct professional honor," said Eric Watt Wiechmann, McCarter's Firmwide Managing Partner. "In keeping with the firm's strong commitment to improving the law, McCarter is proud to congratulate one of its own for being recognized not only for his professional achievement, but also for his demonstrated interest in reforming aspects of the law for the public good."
Mr. Boyer is a member of the Business Litigation and Labor and Employment Practice Groups at McCarter & English, and is also a member of the firm's E-Discovery Task Force. His practice is focused on business and commercial litigation, including intellectual property and labor and employment relating litigation.
The Institute seeks individuals who reflect the excellence and diversity of today's legal profession. Members are from all areas of the United States and from many foreign countries, selected on the basis of professional achievement and a proven interest in improving the law. Current members may propose for membership only those who combine high character and ability, as well as manifest professional standing. In addition to the opportunity to make significant contributions to the legal profession, active ALI members reap substantial personal benefits as well, including the opportunities to participate in important legal work, to continue to develop their abilities, and to forge valuable friendships and professional relationships with other members.
A graduate of Georgetown University School of Law, Mr. Boyer received his B.A. from the University of Pennsylvania. He serves on the Philadelphia Bar Association's Professional Guidance Committee and on the Investigation Subcommittee of the Judicial Selection Commission of the Philadelphia Bar Association.
About McCarter & English
McCarter & English, LLP, established more than 160 years ago, represents Fortune 500 and middle-market companies in their national, regional and local litigation and on important transactions. Its 400 attorneys are based in offices in Boston, Hartford, New York, Newark, Philadelphia, Stamford and Wilmington. http://www.mccarter.com
###