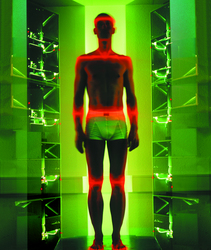 London, Greater London (PRWeb UK) October 28, 2009
The client's body is scanned and hundreds of exacting measurements are taken in less than the time it takes to say 'suits you sir!'. The data is then used to craft the garment around their body shape.
Quicker, more accurate and using many more measurements than any traditional bespoke tailor, Tailor Made guarantee a better fit.
Commenting on the business, John Buni, Managing Director, Tailor Made says:
"Tailor Made London was borne out of the idea of bringing elite tailoring back to the masses. The notion that owning a bespoke suit is a luxury only few could afford is a relatively modern one. In fact until the 1960s, fine tailored suits were worn by working men of all ages and classes.
Our own experiences of online and visiting tailors have failed to recreate this mass customisation as it is impossible to create a perfect fitting suit from only a dozen measurements and even worse when they are taken by an unskilled person. Savile Row bespoke tailors rely on a number of fittings to overcome this; Tailor Made London eradicates all of these problems by using the 3D Body Scanner ensuring that the outcome is a bespoke suit that is shaped and flatters without the need for a single fitting."
Notes to editors:
If you would like more information, or to schedule an interview with Founder John Buni, or to arrange a complimentary Body Scan, please call 00 44 20 75 66 00 77 or email Charlotte Latham.
Website: http://www.tailormadelondon.com
Tailor Made creates bespoke made suits at affordable prices using only the finest British and Italian weavers such as Holland & Sherry of Savile Row, Ermenegildo Zegna, and Loro Piana. Their range of suits begins at £350 and shirts from £80. All garments are tailored in Germany, cut to the client's exact measurements using a combination of hand tailoring and laser cutting technology and ready in 4 weeks.
###