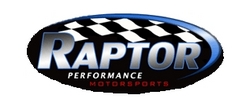 We are glad we were able to secure a contract with Patrick Rummerfield
Arlington, TX (PRWEB) October 21, 2009
RAPTOR Performance Motorsports announced today that it has signed Patrick Rummerfield to a driver agreement. Mr. Rummerfield's agreement with RAPTOR Performance Motorsports will include the development of stock car and drag racing programs. His first competitive event will be Oct. 23-24, at the LenMar Motorsports ADRL World Finals V at Ennis, Texas, where he will compete in the Flowmaster Extreme 10.5 class (subject to confirmation).
Mr. Rummerfield, who made history after suffering a spinal cord injury that left him paralyzed from the neck down, recovering the use of his body through uncharted therapy, and returning behind the wheel of a sports car, is a long-time advocate of spinal-cord injury patients all over the world. Racing with the ADRL is another way he hopes to inspire similarly injured people to continue their recoveries.
"Racing to cure paralysis is in my blood", commented Mr. Rummerfield from his St. Louis, Missouri home. "I have always loved the focus required to run a good race. But, most importantly, I see this as an opportunity to show anyone who is facing a challenge what determination, hard work, and focus can do. Whether your challenge is a spinal cord injury or a personal hurdle, there is nothing you can't do if you're willing to work hard at it and never give up."
Mr. Rummerfield works directly with the International Center for Spinal Cord Injury at Kennedy Krieger Institute in Baltimore, Maryland, one of the first facilities in the world to combine innovative research with a unique focus on restoration and rehabilitation for children and adults with chronic paralysis. He also cooperates closely with a number of non-profit organizations, including Adventures on Wheels, Push America, and the Christopher and Dana Reeve Foundation, to bring awareness to spinal cord injury research and treatment.
"We are glad we were able to secure a contract with Patrick Rummerfield", said Steve Anderson, co-owner at RAPTOR Performance Motorsports. "He not only embodies the spirit of determination and commitment that the world of motorsports is all about, but, just by getting behind the wheel, he can be a mentor to anyone struggling with life's problems. We are confident that he will be successful behind the wheel of a dragster as well as a stock racing car, just as he's been successful in his personal endeavor. This guy just doesn't give up!" continued Mr. Anderson.
Mr. Rummerfield has attended several National Guard ADRL events in the past as a motivational speaker for the series' Guarding Our Youth program, but this weekend's race in Texas will mark his first appearance as a competitor.
"Patrick has always been a source of inspiration to everyone involved with the National Guard ADRL, but to have him enter as a driver takes it to a whole new level," Jeff Fortune, the O'Fallon, Missouri-based series' executive vice president, said. "Additionally, the National Guard ADRL is a strong supporter of all the brave men and women of the United States Armed Forces, and we know Patrick is an inspiration to many of them who may be struggling with their recovery from injuries."
RAPTOR Performance Motorsports is also working with Rummerfield on a series of adventures he is planning to undertake to help further his cause.
About RAPTOR Performance Motorsports
Raptor Performance Motorsports (RPM) focuses on the development of diverse drivers and marketing venues to promote strong sponsor partnerships and to win championships. By increasing brand awareness and market share using the number two marketing sports product in the US, RPM brings together racing teams, marketing teams and sponsors to form one family. RPM is one of the most unique and diverse teams in motorsports, with capabilities to participate in every racing series, including NASCAR, ARCA/Remax, NHRA, IHRA, and ADRL Series. By bringing together a host of racing and non-racing businesses, each racing team is ensured access to the best equipment and products, while sponsors benefit from increased efficiencies, bringing the highest possible visibility for their brands.
For additional information, visit RPM's website.
About Patrick Rummerfield
Following a 1974 car accident that left him paralyzed from the neck down, Patrick entered an uncharted and grueling regimen of physical therapy and physical and psychological support. With sheer determination and an iron will, Patrick regained function to his limbs, and went on to race marathons all over the world, including the Ironman Triathlon, the Gobi Desert march, and the Antarctica marathon, and to establish the FIA World Land Speed record on an electric car, along with 33 World Firsts. Today Patrick works with the International Center for Spinal Cord Injury at Kennedy Krieger Institute and has co-founded Adventures on Wheels, a nonprofit organization developed to bring the world of adventure to those affected by spinal cord injury. Patrick is an accomplished motivational speaker and is in the process of writing a book about his incredible life story. For additional information visit Patrick Rummerfield's website.
About ADRL
Based in O'Fallon, Missouri, the American Drag Racing League is the nation's premier sanctioning body for the sport of eighth-mile drag racing. The professional categories featured in the ADRL are Extreme Pro Stock, Pro Extreme Motorcycle, Extreme 10.5, Pro Nitrous, and Pro Extreme, the quickest doorslammer class in all of drag racing. The 2009 National Guard ADRL series consists of 10 national events run throughout the United States. For more information on the ADRL, visit the ADRL's website.
###