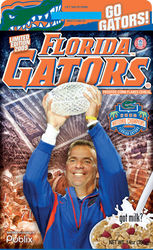 We are all about building strategic partnerships. As the competitive landscape increases, our clients recognize the value in building solid traffic driving promotions
Deerfield Beach, FL (PRWEB) October 21, 2009
For the 7th year in a row, Triton innovative Marketing will role out another year of exciting Football spirited Cereal boxes, that will make shelves around the country at partnering retailers to include: Publix, Sweet Bay, HEB, King Soopers, Roundys and Kroger. New to the program under the brand "Breakfast Blitz" is the Denver Broncos, Green Bay Packers and the Washington Redskins. Also new under the nickname of "TOR-O's" brand is a Texas Texans box featuring TORO their mascot, Detroit Lions Kick Off Crunch and a Penn State program called Penn State Crunch. "We are very excited to be working with so many great brands and retailers" says Triton President Jay Freedman. "We are all about building strategic partnerships. As the competitive landscape increases, our clients recognize the value in building solid traffic driving promotions" Freedman explains. While grocery retailers wrestle with increasing food prices and greater competition, Triton's program has captured a number of participants because of its uniqueness, ease and the ability to deliver major media assets.
The limited produced product has already started to hit store shelves with staggered releases into the end of October. Florida retailer Publix Supermarkets, has been a leader in this program showcasing annual programs with University of Florida, Florida State University and University of Miami. This year Albertsons and Sweet Bay step in to add to the greater visibility. The Florida programs feature some great themes (Gators National Championship commemorative box, Hurricanes "Pipeline to the Pro's" box and Seminole tribute to Bobby Bowden" box). Roundy's is the exclusive retailer for the new 3 box set being released with the Green Bay packers which celebrates 90 years in the NFL.
Following the release of these programs are special events, public relations campaigns and a host of media to promote program. "Anyone can slap a logo on a piece of product and sell it. We spend months developing the boxes with our clients marketing teams to create special once in a life time commemorative product" says Freedman. Many more releases will be available later this year and in 1st and 2nd quarter of 2010. "Having just completed a deal with Major League Baseball, we are excited to explore into some new sports categories" says Freedman.
Triton Innovative Marketing is based in Deerfield Beach, Florida and Los Angeles. Triton Innovative Marketing is a strategic integrated Marketing, Promotion and Events company that directs an array of custom marketing programs for Radio, TV and Brands. A division of Triton Media, Triton builds hundreds of custom programs a year that are structured on providing 360 degrees solutions for its clients. http://www.tritonexperience.com
# # #