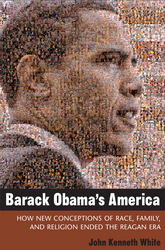 Washington, DC (PRWEB) October 22, 2009
In his new book Barack Obama's America, John Kenneth White, describes how President Obama's groundbreaking election did more than reflect a dramatic shift in racial and cultural attitudes in this country. President Obama's victory is a direct result of the changing face of who we are as a nation and the social trends of our families, religious practices and racial makeup. In a compelling blend of narrative, analysis and carefully researched data, White tells how we arrived to our present-day condition and in the process how we are rethinking what it means to be an American.
One of the nation's foremost political scientists, John Kenneth White describes four evolving social revolutions in this country: racial, family, gay-rights and religious. Each revolution is having a major impact on the definition of who we are as a nation. The America of the 1980s under President Ronald Reagan still reflected the stereotypical American family of the 1950s and 1960s. Namely, a white, married, church going couple living in the suburbs with their children, this image of the American family is now being replaced by a multi-cultural, multi-ethnic portrait that is still evolving.
The demographic mix of the United States has changed dramatically since the Reagan era. Whites will be a minority by mid-century. Marriage is at an all-time low with more people than ever living alone. More than half of traditional marriages end in divorce. Gay marriages and civil unions are on the rise. Many organized religions are losing active members. Most Americans are still not comfortable talking about race, family, lifestyles, gay rights or religion, and yet these transformations are shaping present-day politics.
John Kenneth White is a Professor of Politics at the Catholic University of America in Washington, D.C. He is the author of four books on American politics, including The New Politics of Old Values, which discusses the presidency of Ronald Reagan, and coauthor or editor of numerous others. His analyses of contemporary politics have appeared in the Washington Post, New York Times, the San Francisco Chronicle, Boston Globe, and Christian Science Monitor as well as on the BBC, National Public Radio, and other news outlets.
Barack Obama's America How New Conceptions of Race, Family and Religion Ended the Reagan Era (University of Michigan Press, http://www.press.umich.edu/ ) by John Kenneth White is available at Amazon.com for $27.95.
###