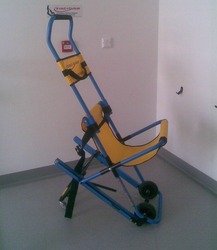 Our customers include building owners, facility managers, landlords, hospital administrators and campus officials
Lake Success, NY (PRWEB) October 22, 2009
Richard Perl, vice president of business development for Evac+Chair North America, LLC (http://www.evac-chair.com), has announced a distributor deal with Grainger Industrial Supply for the Evac+Chair, an innovative emergency evacuation chair used in multi-story buildings. Grainger, North America's leading broad line distributor of facilities maintenance products, carries three models of the emergency evacuation chair as well as an aircraft transit chair marketed by Evac+Chair North America.
"Since we distribute the Evac+Chair throughout all of North America, including Mexico and Canada, Grainger is an excellent distribution partner for us," said Perl. "The Evac+Chair can be used in any multi-story residential or commercial building anywhere and Grainger certainly has the market reach we seek," he added.
Evac+Chair ensures a safe egress for those who need assistance getting down stairs during an emergency, such as the disabled, elderly, or those with conditions that make stairway descent difficult. The chair's narrow profile and lightweight design means it does not interfere with the ascent or descent of emergency responders sharing the stairway. The Evac+Chair is engineered to move smoothly using a patented continuous rotating V belt that ensures safety and allows the user to control the chair's descent down the stairs with relative ease, regardless of the passenger's size.
"Our customers include building owners, facility managers, landlords, hospital administrators and campus officials," explained Perl. "The Evac+Chair is in hotels, hospitals, arenas and stadiums, government buildings, schools, and office and apartment buildings," said Perl. "We look forward to helping Grainger's diverse customer base of facility maintenance professionals create a safer environment for their building occupants."
For more information about the Evac+Chair, go to http://www.evac-chair.com or contact Rich Perl of Evac+Chair North America, LLC at (516) 502-4240.
# # #